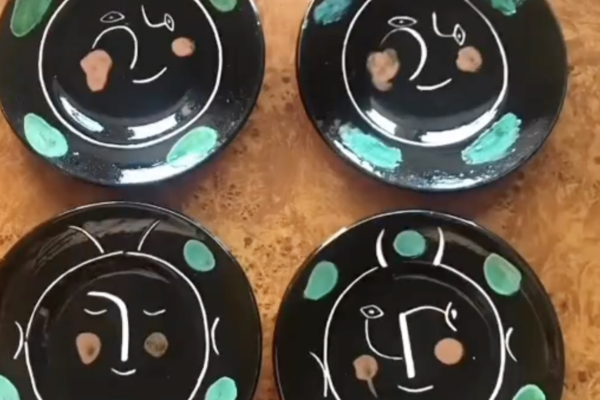 Everyone loves a good find at a thrift store. Whether you need a good old chair, or a dresser, or some dishware, you can always trust that something of quality will be there, especially if you're just starting to live on your own. 
What you don't expect is for a visit to the local thrift store to change your life. 
That's what happened to Nancy Cavaliere, a thrifter living in New York City when she went to the local Salvation Army to find some dishes for her new apartment. 
"I stumbled on the plates during my daily trip to the store. On my way out I noticed some new china had been added to the shelves. My first reaction was that they would make a great tablescape, but then I turned them over and saw the Picasso tag," Cavaliere told Newsweek.

"I freaked out," she said. "I didn't know what I was holding, but I knew it could be worth serious money. So I checked out and ran back to my office."

The set of plates set her back just $6, but when she got back to her office and started furiously searching the web, she realized she had stumbled on something special.

"I did the initial googling and figured out the series, the date they were made and pretty much the whole history behind Picasso's ceramic line," said the thrifter.

Cavaliere, who runs the Instagram account casacavaliere where she shares her latest finds, reached out to a nearby auction house and had the plates authenticated by experts. They estimated that the plates would sell individually for between $3,000-$5,000 each.
The auction house Sotheby's writes, "Incorporating a range of techniques, subjects, and forms, Picasso's ceramics, produced in limited editions, suit every interior. Sotheby's London's upcoming sale, Picasso Ceramics: Colours of the Côte d'Azur (28 January–6 February), presents an impressive array of the Master's forms, offering accessible ceramics for every collector with low estimates ranging from £500 to £24,000.
One fateful day in 1946, Picasso visited an exhibition of local crafts in the Côte d'Azur, where he met Vallauris-based ceramicist Suzanne Ramié. Head of the family-run Madoura pottery, Ramié invited the artist to her nearby atelier that very afternoon. The ever-curious Picasso immediately set to work experimenting in clay, producing two bulls and a petite faun's head on the spot. He eagerly returned to the workshop in 1947, where he was to spend the next 25 years creating an astounding 633 different ceramic editions.
Picasso's two preferred techniques were used to execute his editions: replication by hand, and replication by hand-made dry mould. The editioned ceramics produced by his hand-shaped moulds are tellingly stamped 'Empreinte Originale de Picasso'. Each type was further incised, glazed, and/or painted, rendering forms that are admired by both the Minimalist and Maximalist.
Inspired by the long history of ceramic art, Picasso reinvented traditional forms, updating them with his own anthropomorphic and zoomorphic designs. Classicists and Modernists alike can appreciate his take on ancient pottery."
Next time you're thrifting, be sure to flip over the plate just to be sure! 
[Read More: He Walked Across The Planet And Finally Said Why]