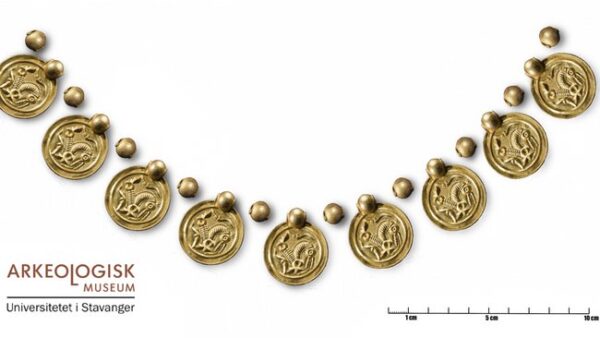 Doctors told Erlend Bore that he needed to start walking more. To help make his walks a little more interesting, he bought a metal detector and began taking jaunts around the mountainous island of Rennesoey, Norway, looking for interesting trinkets. At first, he merely found some scrap. Then, one day, he thought he found foil-covered chocolate money buried in the soil.
When he looked a little closer he realized he had something more significant. Erland found the largest gold find in the history of Norway in over a century.
The cache comprised nine gold medallions and gold pearls that once formed an opulent necklace, as well as three gold rings. The jewels, which weigh a little more than 100g, were found to date from about AD500.

"At first I thought it was chocolate coins or Captain Sabertooth coins," said Erlend Bore, 51, referring to a fictional Norwegian pirate. "It was totally unreal."

Archaeologists say the find is unique because of the design on the medallions: a type of horse from Norse mythology.

Håkon Reiersen, an associate professor at the museum, said the gold pendants – flat, thin, single-sided gold medals called bracteates – dated from the so-called migration period in Norway, which ran between AD400 and about AD550, when there were widespread migrations in Europe.

"Given the location of the discovery and what we know from other similar finds, this is probably a matter of either hidden valuables or an offering to the gods during dramatic times," he told The Guardian.
The pendants and gold pearls were part of "a very showy necklace" that had been made by skilled jewelers and was worn by society's most powerful, said Reiersen. He also explained that "in Norway, no similar discovery has been made since the 19th century, and it is also a very unusual discovery in a Scandinavian context."
One expert on such pendants, professor Sigmund Oehrl said that about 1,000 golden bracteates have so far been found in Norway, Sweden and Denmark.
The symbols on the pendants typically show the Norse god Odin healing the sick horse of his son. On the Rennesoey ones, the horse's tongue hangs out on the gold pendants, and "its slumped posture and twisted legs show that it is injured," Oehrl told ABC News.
"The horse symbol represented illness and distress, but at the same time hope for healing and new life," he added.
The find will be displayed at the Archaeological Museum in Stavanger, about 200 miles southwest of Oslo. 
[Read More: The Ugliest Animal On The Planet May Be The Most Important]