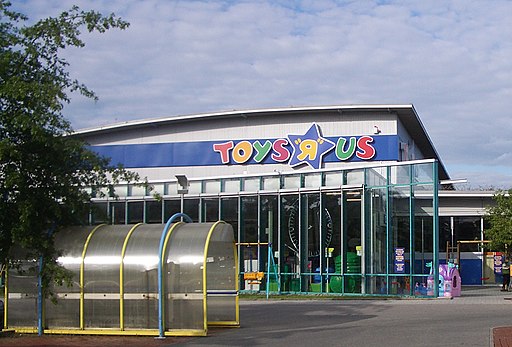 It was a store that used to fill children's dreams across the country. Aisles filled with every toy imaginable: video games, dolls, action figures, anything else that you'd expect at the place where "a kid can be a kid." 
Those who grew up in the 1980s and 90s know the iconic Geoffrey the Giraffe of Toys R Us, the jingle that sang "I don't want to grow up. I'm a Toys R Us kid," and the promise from mom or dad that "If you're good, I'll take you to Toys R Us." 
This Toys R' Us commercial aired in 1996 and featured many of the same kids from the 1982 commercial reenacting their roles as young adults. Many people loved the original Toys R' Us ad as kids and grew up to love this one as well. Absolutely classic! pic.twitter.com/dumiREnhxX

— Classic Commercials Vault™ (@ClassicAdsX) November 22, 2022
As one writer put it, Toys R Us "was the place where Barbie had her own pink aisle and super heroes had theirs. You could jump rope, play with Legos, ride a bike, hug a teddy bear, rock a baby doll, make believe, discover, explore, and laugh. It was truly… where a kid could be a kid. Adults found themselves remembering their childhoods as an iconic toy would catch their eye."
In 2018, Toys R Us, struggling to compete with internet retailing and "an antiquated sales model that could not keep up with Amazon and Walmart" shocked children everywhere by closing over 800 stores and declaring bankruptcy.  
But Geoffrey is back!
Fox News reported, "The in-store shops will range from 1,000 square feet to 10,000 square feet in flagship locations. 
The flagship locations will be in Lenox Square in Atlanta; State Street in Chicago; Ala Moana in Honolulu; Memorial City in Houston; South Coast Plaza in Los Angeles; Aventura and Dadeland in Miami; Herald Square and Roosevelt Field in New York City; Union Square in San Francisco and Valley Fair in San Jose.
Macy's officials said that the store footprints will have the ability to expand by another 500 to 3,000 square feet of space during the holidays to offer a wider assortment of products." 
"Macy's cannot wait to bring the Toys"R"Us experience to life in our stores," Nata Dvir, Macy's chief merchandising officer told WDIV. "We hope Toys"R"Us kids of all ages discover the joy of exploration and play within our shops and families create special memories together. The customer response to our partnership with Toys"R"Us has been incredible and our toy business has seen tremendous growth."
"To celebrate the openings, Macy's stores will host nine days of in-store events, beginning October 15 through October 23, which will include activities and daily giveaways from brands like Barbie, LEGO, and more."
Adults are already taking their kids back to the store to let them bask in all its glory.
It's inside of a Macy's but my little has finally gotten to experience Toys R Us. They closed the one near me like 5 weeks after she was born. pic.twitter.com/clVXIjQtH4

— 🏆sean🏆p🏆 🇺🇦 🇺🇦 (@nofacenocasemgt) November 27, 2022