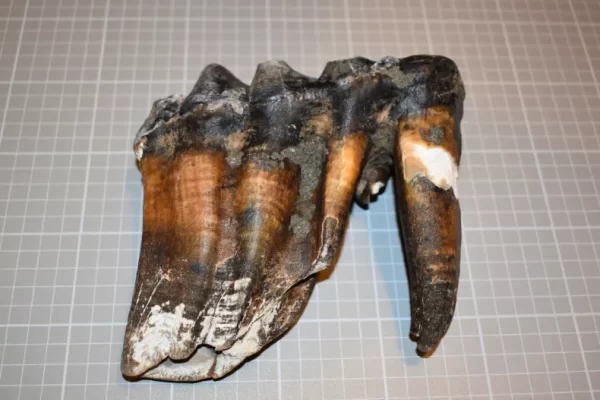 Jennifer Schuh was taking a nice stroll along the beach for Memorial Day near Aptos Creek on Rio Del Mar State Beach in Monterey Bay. That's when she saw the strangest thing she's ever seen in her life: an ancient mastodon tooth at least a foot long sticking out of the sand.
She told The Associated Press, "I was on one side of the creek and this lady was talking to me on the other side and she said what's that at your feet," Schuh recounted. "It looked kind of weird, like burnt almost."
Jennifer felt unsure about what she'd found, so she did what most people would do: she asked the Internet by taking a picture and posting it on Facebook.
That's when Wayne Thompson, paleontology collections advisor for the Santa Cruz Museum of Natural History provided the answer. He figured out that what Jennifer had found was a worn molar from an adult Pacific mastodon, an extinct elephant-like species and asked that she call him as soon as she could.
The AP explained what happened next: "But when they went back to the beach, the tooth was gone.

A weekend search failed to find it. Thompson then sent out a social media request for help in finding the artifact. The plea made international headlines.

On Tuesday, Jim Smith of nearby Aptos called the museum.

"I was so excited to get that call," said Liz Broughton, the museum's visitor experience manager. "Jim told us that he had stumbled upon it during one of his regular jogs along the beach, but wasn't sure of what he had found until he saw a picture of the tooth on the news."
He happily donated the tooth to the museum so the public can see the exceptional find. The Museum has a long history with local mastodon finds in the area. In 1980, the museum's blog states, "16-year-old Jim Stanton found a mastodon skull in Aptos Creek, which Thompson excavated and spent years meticulously repairing. Visitors can explore this skull, the only other locally recorded specimen, at the Museum of Natural History where it is on permanent exhibit."
Mastodons were a type of proboscidean that lived during the Pleistocene era and went extinct around 10,000 years ago. They were similar to elephants in many ways, but had shorter and straighter tusks, as well as different teeth that were adapted to a diet of browsing on leaves and branches. Mastodons were also slightly smaller than mammoths, which were their close relatives. 
The animals lived all over North and Central America from the late Miocene period, which ended about 5.3 million years ago, all the way up to their extinction.
The museum is set to display the tooth to the public in the fall.
[Read More: Man Saves Family From Fire While Out On His Morning Jog]