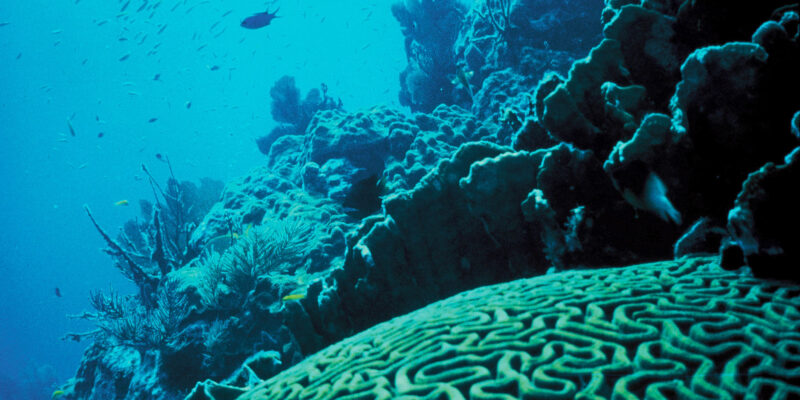 A company that uses 3D printing to produce patios and other concrete furnishings in Florida has put some of their creations in one of the least likely places on the planet: the ocean.
Printed Patio's website states, "Concrete 3D Printing is an emerging technology, with benefits still being discovered every day. Since our founding in 2020, Printed Patio has identified and realized some of the following benefits, unique to this incredible technology."
Now they're going to extremes to see just how beneficial their technology might be by teaming up The Florida Oceanographic Society to make coral reefs to help the turtles, fish, and sharks in the 750,000-gallon Gamefish Lagoon near Port St. Lucie, Florida. 
"The smaller animals can swim through there and the turtles will rest under here," Brittany Hascup, the Director of Animal Care and Life support for the Florida Oceanographic Society told local news, as she pointed towards digital renderings of the printed reef. "It's going to allow a lot of cubbyholes for animals to swim in and out of," she continued, "because it is concrete, just like our tank, it allows things to grow on it and it becomes kind of a natural portion of our tank."

"The technology in our printer allows us to do much more intricate designs and shapes, and so that's where you're ending with the with this being a really cutting edge technology cause we're actually injecting accelerant at the printhead, and that's allowing the concrete to cure in less than a minute," explained Printed Patio's CEO, Justin D'Angelo.

D'Angelo says his introduction to Florida Oceanographic Society came when his wife donated lettuce from their home garden to the wildlife.

"We had been in their facility multiple times and we just said 'this could be a really cool fit' and we started to talk with them and they were really excited about the idea," he recalled.
Reports say the new reef will be about 9 feet long and 4 feet thick and is made from a special concrete mix.
We are excited to partner with Printed Patio on this #concrete #reef that will be placed in our Gamefish Lagoon to provide our Conservation Ambassador #Animals more space to hide from the sun and create their own space.

Learn more about this project ➡️ https://t.co/Lx21beLKC2 pic.twitter.com/SYYO2ZI5kL

— Florida Oceanographic Society (@FLOceanographic) December 13, 2022
"It needs to be liquid enough to pump, but it needs to set fast enough so you can continually build on yourself," Hascup continued. 
"The amount of concrete would stretch for just over a mile. Once the reef is finished, it will have to cure for a month.
"'It allows us to be artistically free and we can create concrete items without having to use traditional molds.'
Florida Fish and Wildlife will give the final approval. The plan is for it to be placed in the water early next year.
The head of Printed Patio told WFLX he was inspired by a European company that has developed similar 3D reefs in places like Portugal," wrote WFLX.