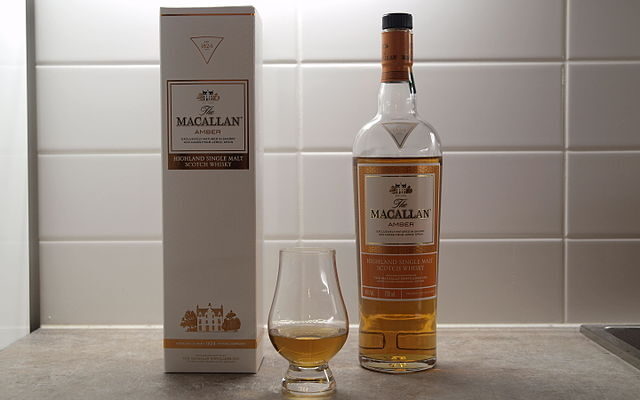 Some foods are so delicious that they're said to taste like a million bucks, but in Great Britain, a place known for its incredible whiskies, a bottle of scotch sold for $2.7 million dollars at auction. 
A bottle of Macallan shattered the record for most expensive bottle of wine or spirit
USA Today had the details about the astonishing whisky: 
"This record-breaking result for The Macallan 1926 is nothing short of momentous for the whisky industry as a whole," Sotheby's Global Head of Spirits, Jonny Fowle, said in a statement. "This new record result for The Macallan Adami feels all the more emotional for me, having worked directly with the consignor and distillery to recondition, nose and authenticate this bottle, then finish this journey on the rostrum fielding bids in the room and on the phone."
Only 40 bottles of The Macallan 1926 were produced in 1986, after being aged in sherry casks for six decades, said Sotheby's, making it the oldest Macallan whiskey ever produced at that time.
None of The Macallan bottles were made available for purchase, said Sotheby's in the product's description on their website. Instead, some were offered to the distillery's top clients, adding to their appeal and value.
At least three other bottles from the collection were auctioned in 2018 and 2019. One of them, decorated with one of 14 "Fine and Rare" labels had earlier set a record for the most expensive bottle ever sold, when it fetched $1.9 million at Sotheby's in 2019.
A bottle of the world's most valuable whisky, The Macallan 1926, will go up for auction at @sothebys on Nov. 1.

Aged for 60 years, 40 bottles, with different art on them, were made in 1986.

It is expected that the winning bid will top $1 million. pic.twitter.com/EVM2bQttqb

— Darren Rovell (@darrenrovell) October 19, 2023
Sotheby's head of whisky, Jonny Fowle, told AFP that he had been permitted to sample the most valuable dram in the world before before the sale.
Fowle said: "I tasted a tiny drop – a tiny drop – of this. It's very rich, it's got a lot of dried fruit as you would expect, a lot of spice, a lot of wood."
He said the scotch had spent 60 years in dark European oak, which was reflected in the colour. "It's not a whisky to take lightly. It's a rich, rich dram, but it is incredible," Fowle continued.
"Saturday's sale was one of 12 bottles covered with a label designed by Italian painter Valerio Adami, a bottle of which is also believed to have been destroyed during the 2011 Japanese earthquake," according to CNN. 
The bottle also underwent reconditioning before hitting the auction block. That means The Macallan Distillery authenticated the whisky and then replaced its cork and the label. It is the first such bottle to be reconditioned in this fashion.
"A further 12 were labelled by pop artist Sir Peter Blake, while the remaining two were released unlabelled. Of the unlabelled, one was hand painted by Irish artist Michael Dillon, and became the first bottle of whiskey to surpass £1 million ($1.2 million) when it sold in 2018 for £1.2 million ($1.5 million)," CNN continued.
I think we can all cheers to that.