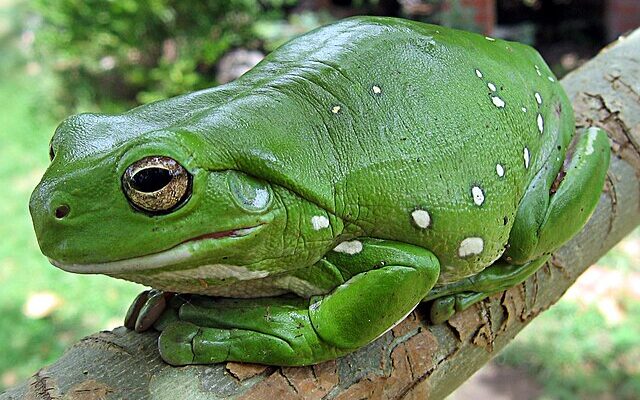 A woman in southeastern Michigan was getting ready to make a nice salad when the noise that came from her daughter made her skin crawl. Sitting inside their fresh, organic spinach container was a frog. 
"My daughter was screaming, she was like 'Oh my God, it's a frog,' and I was like, 'What?" Amber Worrick told Fox 2 Detroit.

Camouflaged among the spinach was a frog, alive and moving.

Amber Worrick doesn't want to be forever known as the frog lady, so she's keeping her face out of this story.

"Just thank God I didn't eat the frog," she said.

This week – Worrick said she got it while shopping at Meijer off Telegraph at 12 Mile after buying a package of Earthbound Farms Organic Spinach.

"I didn't see anything didn't feel heavy, I didn't feel anything wiggling," Worrick said.
Jennifer Holton, a spokesperson with the Michigan Department of Agricultural and Rural Development, told the local newspaper "that the store shouldn't have released the frog because authorities now don't know whether it's native to the state.
She said the department referred the incident to the U.S. Food and Drug Administration. Meijer officials said the frog was relocated to a new home outdoors."
The California-based Taylor Farms, which owns Earthbound Farms, issued an apology and said they'd continue working hard to provide fresh quality vegetables to consumers.
"Full-grown Pacific tree frogs are about two inches long on average, according to a document from the Oregon Department of Fish and Wildlife. They are also sometimes called Pacific chorus frogs," explained Fox Business.
"The grocery store also reportedly refunded her money. 
Meijer's retail footprint across six states includes over 500 supercenters, grocery stores, neighborhood markets and express locations. In Michigan, where it is based, the company recently debuted two new supercenters, according to a recent press release."
"Just thank God I didn't eat the frog," Worrick continued.
That's one way to make sure something's organic.