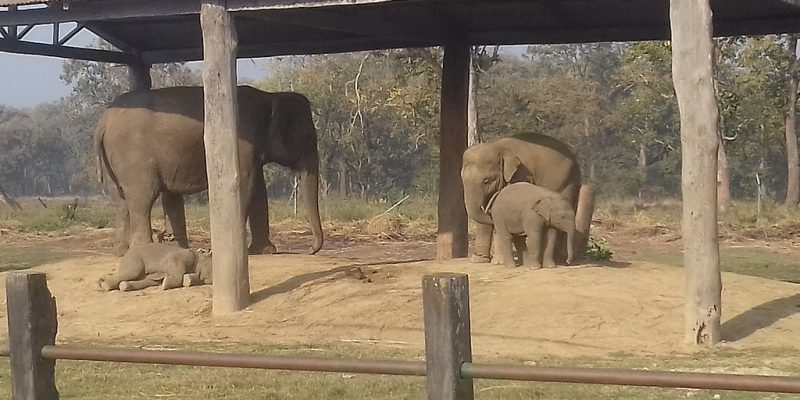 If you ever saw your child fall into a pit without hope of an escape, you'd probably react as one elephant did in Khao Yai National Park, Nakhon Nayok province in central Thailand. She fainted.
Luckily for the mama, a team of veterinarians, national park staff, and volunteers were ready to help. 
One report said, "According to park officials, a one-year-old calf fell into a drain hole while the mother was guarding it without leaving its side. The rescue team used anesthetic shots to subdue the frantic mother elephant, resulting in one half of her falling into the hole. However, it allowed the baby elephant to suckle from its mother.
Rescuers then used a crane to lift the mother up, but she fainted due to stress. Video of the heart-wrenching scene showed staff members performing CPR to save the elephant."
The little elephant later climbed out of the hole it was stuck in and nursed on the mother until she regained consciousness. It looks like the loving touch from her baby woke up the mother. 
According to the park's website, Khao Yai, the first National Park in Thailand, covers 11 districts in four provinces: Saraburi, Nakhon Ratchasima, Prachinburi and Nakhon Nayok. Located in the Phanom Dong Rak mountain range, it is part of the Dong Phaya Yen Forest, previously called Dong Phaya Fai. Many mountains large and small make up the landscape. It is the source for many important rivers such as the Nakhon Nayok River and the Mun River, and a fertile habitat for a diverse range of plant and animal species, such as wild elephant, muntjac, sambar deer, gaur and big cats, in a beautiful natural environment."
It is often considered one of the most beautiful national parks in Thailand, if not the world.  
The park "was collectively registered as a World Heritage site under the name Dong Phayayen-Khao Yai Forest Complex, following the 29th Session of the World Heritage Committee in Durban, South Africa on 14th July 2005."
"It became the 184th Natural World Heritage Site with outstanding attributes meeting the 10th selection criteria: 'To contain the most important and significant natural habitats for in-situ conservation of biological diversity, including those containing threatened species of outstanding universal value from the point of view of science or conservation.'"
Forbes Magazine said the park is home to 250 elephants and recommended visiting GranMonte winery. "Located at the foothills of Khao Yai, a national park renowned for its biodiversity, GranMonte (whose name means "Big Mountain") is set across 40 acres of land in Thailand's Asoke Valley," the magazine claimed. "Though the property's Italian-inspired VinCottorestaurant and wine cottage may be reminiscent of the Tuscan countryside, the occasional sighting of elephants in the vineyard will remind you that you're not in Europe anymore. You're in the tropics."
"GranMonte produces 100,000 bottles across 23 labels and grows dozens of grape varietals. Chenin Blanc and Syrah are considered best grapes for tropical climates thanks to their adaptability, but the winery also grows from Cabernet Sauvignon, Grenache and Tempranillo, to Viognier, Verdelho and Albariño, among others. Innovation and experimentation are guiding principles at GranMonte, which is a production-led, rather than a market-led, business given its recent emergence in Thailand. It produces sparkling wines in the classic method and is starting to make orange wines made in Georgian qvevris."
After her ordeal, I bet that the mother elephant could use a glass of wine. Hopefully she at least found a nice place to rest.