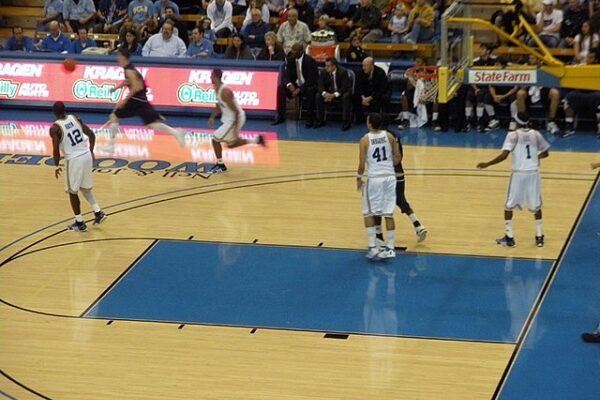 March Madness always serves as one of the best sporting events in the world. The drama, the upsets, and the busting of brackets gets so much attention that, according to one study, businesses lose nearly $14 billion in worker productivity during the basketball tournament. 
"According to the WalletHub study, the average worker spends six hours watching the tournament each year. If you're counting on a millennial to finish that project on time this March, better give them an extension now! A staggering 56 percent of millennial workers admit they're willing to miss a work deadline in order to watch their team play in March Madness.
Overall, however, watching some college hoops as a team will likely have a positive impact on many offices. Four in five employees (78%) say watching and celebrating March Madness at work boosts morale."
A benchwarmer for the UCLA Bruins has taken the excitement up a notch, though. The Daily Caller writes, "UCLA forward Logan Cremonesi might only be a sophomore walk-on with a stat line of 0.1 points-per-game, 0.2 rebounds-per-game and 0.2 assists-per-game, but that hasn't stopped him from having massive Bruin pride for the NCAA March Madness college basketball tournament.
𝐑𝐞𝐩𝐫𝐞𝐬𝐞𝐧𝐭𝐢𝐧𝐠 𝐔𝐂𝐋𝐀.

Bruins' sophomore Logan Cremonesi with the March Madness statement hairdo. #GoBruins | @logan_cremonesi pic.twitter.com/7Bh5OH7yG6

— UCLA Men's Basketball (@UCLAMBB) March 14, 2023
Before the big dance got started, Cremonesi revealed a new hairdo of his which was outright inspired by UCLA, featuring blonde hair with multiple blue paw prints all over. He also has the flashy 'UCLA' logo on the back of his head."
The NCAA officially gave him props for his hair on social media. 
Logan Cremonesi going all out for UCLA 😂 #MarchMadness pic.twitter.com/43V1hGWqVi

— NCAA March Madness (@MarchMadnessMBB) March 17, 2023
The UCLA have had a good start to the tournament. In their opening game they beat UNC-Asheville to a tune of 86-53. They then went on to beat Northwestern in their second round match up 68 to 63. The wins sends the Bruins to the Sweet Sixteen where they will face Gonzaga. 
[Read More: Scientists Discover, Start Mapping Ancient Civilization At The Bottom Of The Sea]