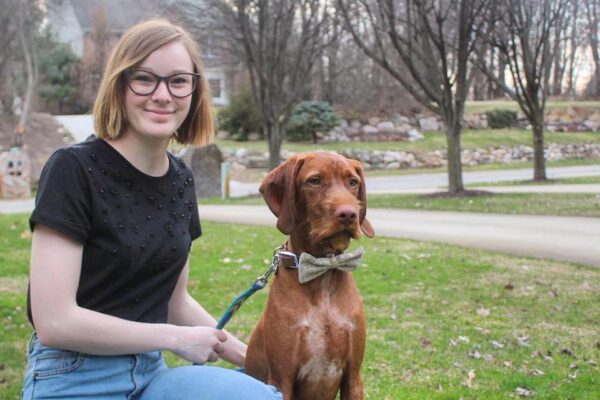 Everyone knows that dogs are "man's best friend," but in the case of one young Michigander named Cienna, they're also lifesavers. 
Newsweek writes, Cienna Ditri is living proof that dogs can save you over and over again. She is affected by a number of conditions, including hypokalemic periodic paralysis, and her dog Piper looks after her every day. Or as Cienna says, "he keeps on saving her life day after day." The first time Cienna's life was saved by a dog was long before being diagnosed with her condition, and before even getting a service dog.

"When I was away at college," Cienna said, "I passed out during Christmas time. I passed out in the bath and hit my head on the drain; the drain closed, so the bath filled up with water and I had a near-death experience where I almost drowned in the bath. Our pet dog we had at the time happened to be in the bathroom with me, and he kind of lifted my head up out of the water."

On a daily basis, Piper helps me with more things than I can count honestly," said Cienna, "he helps me a lot with closing doors behind me, picking up things I drop on the floor, or grabbing water bottles for me, all normal things that service dogs do, like push the little accessibility buttons for the doors. But Piper is a medical alert service dog too, so he does a lot of alerts to let me know before things happen."

Cienna explained that her dog trainer, trained Piper so that he can smell medical changes. He alerts Cienna when her blood sugar is low, or when she is about to pass out, he also helps her stabilize her heart rate and blood pressure. He alerts her when she's having allergic reactions, which she says are his favorite because they're apparently funny smelling to dogs' noses.
She and Piper loved the outsoors. They used to often go hiking in beautiful northern Michigan and even would surf or boogie board on occasions. However, things changed as her illness slowly kept Cienna from being able to go on walks. Even though they no longer went outside as much, her best friend stayed by her side.
"'Piper has the best personality. If I don't feel well, he will happily spend the day snuggling with me," Ditri told The Epoch Times. 'But if I'm wanting to spend a day exploring, he is just as happy taking it all in and sharing all those little moments together that make life so magical.'
Fortune smiled on Ditri when she found a promising treatment for her hypokalemic periodic paralysis at the Mayo Clinic in Arizona. Last summer, she and her mother—and Piper, too, of course—made the trip and stayed at her aunt and uncle's home in California.
They had 14 days to kill between treatments; meanwhile, they anxiously awaited signs of hope. Would the treatments work? Would she walk again?
'It was in California that I took my first few steps,' Ditri said, recalling the milestone moment. "I remember being incredibly overwhelmed with joy and excitement.'"
Now she's cruising and Piper is still by her side, having fun in the great outdoors again.
View this post on Instagram
Cienna recently shared a message on Instagram to celebrate the new year: "My happiness isn't dependent on my health!
As we go into the new year, it is sooo common to wish people health in the new year or health and longevity. I have life limiting conditions and I've never been considered "healthy", but I don't need those things to be happy. I've made some of my favorite memories when I've been the sickest. Yes, I LOVE when my quality of life is better and my symptoms are less, but I don't need those to find joy in life's little moments…. 
So in 2023 I hope you will join me in celebrating each day, in loving the life you have now, finding the joy in the journey, and in having happiness that isn't dependent on health or anything else. Thank you so much for joining me in 2022, 2023 is going to be OUR year."
Way to go, Cienna!
[Read More: High School Football Players Saves Man From Icy Lake]