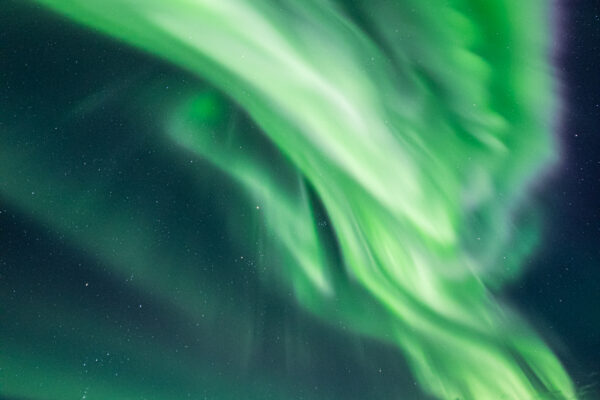 Sometimes the world can be so beautiful it can make you cry. That's what often happens when the nature guides from the Norwegian company Greenlander take visitors on hikes to watch the aurora borealis's incredible displays of pink, purple, and orange. 
Luckily for us, one Greenlander's operators also serves as an incredible photographer, taking astonishing images of the northern lights and sharing them on social media. 
Born in Estonia, Markus Varik has walked for miles to get his incredible shots. Greenlander's biography says, "He has been guiding Northern Lights tours in Tromsø for 9 years. Markus has a unique know-how and skill to take the best care of people and ensure they see the Lights.
Internally nature and outdoor lover it is impossible not to feel overwhelmed when chasing Northern Lights with him.
Markus in always positive thinking and will infect others with his hearty mind and soul. Definitely a problem solver. He is a professional photographer and is proficient taking photos of Aurora. You can't go wrong going out with him to see the beautiful Lights."
The Epoch Times caught up with Markus to discuss his work. 
"I am busy fulfilling people's dreams to see the northern lights," Markus told The Epoch Times. "The world simply seemed a stunning place, and worth being saved in photographs. It started as a hobby and grew into a profession."

On Nov. 2, 2022, Markus took a group of skywatchers to Tromsø in northern Norway, 220 miles north of the Arctic Circle, after calculating the best spot for a sighting of the aurora.

"It was a very exciting time before it happened," he said. "I work a lot with satellite images to track the best sky, and saw a nice opening moving in from the east. We drove out from town, reaching the location of preference and it was still a bit too cloudy. After waiting 10 to 15 minutes, the sky cleared up perfectly, and only then the great pink display happened."

"Even for me, these shows are super rare—the strongest pinks I have ever seen after seeing the aurora between what must be 1,300 to 1,400 times over the course of the past ten years," Markus said, likening the experience to a psychedelic, ayahuasca ritual.

"Words couldn't do it justice. Even after you look at the photos, it gives very little insight," he said. "After the awe-inspiring sights, the clouds took over once again. It really felt like someone opened the skies for us to experience that fantastic phenomenon."
Markus's pictures are often picked up by media all over the globe, and for a good reason, some of his snaps will take your breath away. 
The pink aurora is very rare. Markus Varik told one outlet, "If you spend 10 years inside the Arctic Circle, you're going to see a lot of auroras. I have been guiding aurora tours full time for the past decade, leading more than 1000 tours. I thought I had seen it all." 
Think again: "We headed out early last night (Nov. 2nd) to chase the lights–and what a surprise!" he continued. "These were the most intense pink auroras I have ever seen. The pink color was bright and obvious to the naked eye. My entire group was stunned."
Pink auroras are a sign of nitrogen. Most auroras are green–the color of oxygen atoms being struck by energetic particles 100 km to 300 km above Earth's surface. Pink appears when energetic particles from space descend lower than usual, striking nitrogen molecules at the 100 km level and below.
What happened? Just before Varik went out aurora hunting, a crack formed in Earth's magnetic field. Energetic particles rushed through the gap, penetrating deeply enough for pink," Spaceweather.com explained.
These wonderful light displays are typically only seen near the Arctic Circle in the Northern Hemisphere and in the Antarctic Circle in the Southern Hemisphere. The most common months range from September to April. Norway, Canada, and Iceland are the most popular destinations to see the aurora borealis.
Luckily for those who can't make it, Markus is there sharing his views from the top of the Earth. You can find more photos on his Facebook page.
[Read More: Don't Worry, Redheads, You're Not Going Extinct]