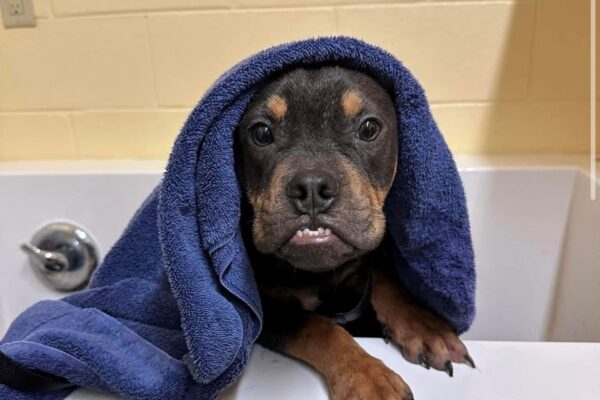 They say that it's cats who have nine lives, but in Wisconsin, at least, dogs do too. An airplane transporting 53 adoptable dogs had to perform a crash landing on a snow-covered golf course this week. All of the dogs, and the three people on board survived the ordeal with some non-life-threatening injuries. 
The Guardian reported, "I think we were all unsure about what we were going to be arriving to but very grateful that everyone is safe," said Maggie Tate-Techtmann, the director of organizational development at Human Animal Welfare Society in Waukesha County.

The plane was badly damaged after plowing through stands of trees on the course. The wings were entirely stripped off, and almost 300 gallons of fuel was spilled.

It is unclear what caused the plane to come down. The crash is under investigation by the National Transportation Safety Board and Federal Aviation Administration.

"This was a relatively catastrophic landing where they went through trees," said Matthew Haerter of Lake Country Fire and Rescue. Haerter added: "The pilot and his co-pilot did an amazing job getting this aircraft on the ground that they did."
The plane received serve damage and finally came to a stop around the third hole of the course.
"The dogs onboard the flight are under observation by staff veterinarians, but HAWS believes, barring any unseen complications, there will be no delay in getting them put up for adoption as planned.
HAWS has established a web page to help pay for the animals' medical expenses and a wish list of supplies needed to help care for and transport the dogs," according to reports.
This is just one of the many rescue dogs that survived the plane crash in Pewaukee, WI this morning. @HAWS_Waukesha tells @WBBMNewsradio these pups are now being triaged before they're ready to be adopted. https://t.co/036FRjFSoR pic.twitter.com/pzsnyHgJnX

— Rachel Pierson (@WBBMRachel) November 15, 2022
A local news station noted, "The head PGA professional at the course, Garrett Mack, tells Wisconsin Golf that workers at the course jumped into action after seeing the plane land. They helped remove dogs from damaged crates and load them into vans.
"We're all dog owners and dog lovers here, so being able to help out and do what we can was just really important to us. Obviously, the dogs were stressed. There were a lot of damaged crates, so unfortunately there were some that kind of got bounced around the cabin when it came down. But all the dogs are accounted for. Aside from being scared, they all seemed to be in pretty good shape," Mack said, according to Wisconsin Golf."
The webpages to send funds to help the dogs in the crash can be found here. 
If you'd like to send care packages, The Humane Animal Welfare Society of Waukesha County has posted its wish list of things they can use. 
[Read More: Dolly Parton Receives 100 Million Reasons To Keep Doing Charity Work]