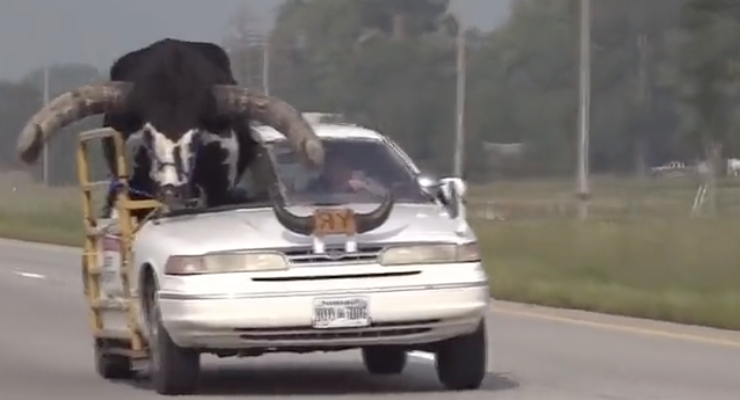 Police officers in Nebraska received a call from frightened drivers that an unusual passenger was causing a stir on the road. They were told that a man was driving with an animal in the passenger seat of his sedan while driving down the freeway. 
No, it wasn't a dog or a cat. It was something even bigger.
"The officers received a call referencing a car driving into town that had a cow in it,"  said Police Captain Chad Reiman. "They thought that it was going to be a calf, something small or something that would actually fit inside the vehicle."
And the vehicle was big enough… Well, technically. 
"As a result, the officers performed a traffic stop and addressed some traffic violations that were occurring with that particular situation," Reiman said.
Captain Reiman or the Norfolk Police Department said he "just had to see it for myself because it seemed so unusual.." He went to the scene, and saw a fully grown, black-and-white steer with long horns riding shotgun in a Ford Crown Victoria sedan.
"It was quite a big surprise," Reiman told The Washington Post. 
Watusi bulls are known for their incredibly long, distinctive horns, which can span up to eight feet from tip to tip. 
The newspaper said that the massive steer "was Howdy Doody, a 2,200-pound, 9-year-old Watusi-longhorn mix steer who's more dog-like than fierce fighting bull. His owner, Lee Meyer, said Howdy Doody enjoys going on walks on a leash, getting treats and, yes, feeling the wind rush past his face when they go on rides. Howdy Doody also knows some commands, such as 'back up' and 'come here.'"
Asked why his bull was riding in the passenger seat, Meyer told WaPo, "'My granddaughter thought it was a bad idea and that it'd never work. So I said, 'Well, Grandpa can do anything, but it might take me a while.' I wanted to prove her wrong.'"
The 63-year-old retired machinist tinkered with his car, an old police cruiser, for a couple of months. He reinforced the floor, suspension and frame. He put a gate on the side and added a plexiglass barrier. Then came the finishing touches: miniature horns adorning the hood of the car and a plate reading 'BOY & DOG.'"
Meyer said the traffic stop will not deter him from carting Howdy Doody around, but he won't be going into town anytime soon. 
"We were going to go to Norfolk's Oktoberfest — that's why we were doing a trial run there," Meyer continued. "I don't think we'll be coming back. But … it will take a lot more to stop a man and his steer."
Asked by the newspaper if his granddaughter had been impressed by figuring out how to drive Howdy Doody around: "She thought the police stop was funny but won't admit I won. She says that I'm not a movie star, I'm just a chauffeur."
Maybe he should have said Howdy Doody was an emotional service bull. 
[Read More: Harvard Professor Claims To Have Discovered Aliens]