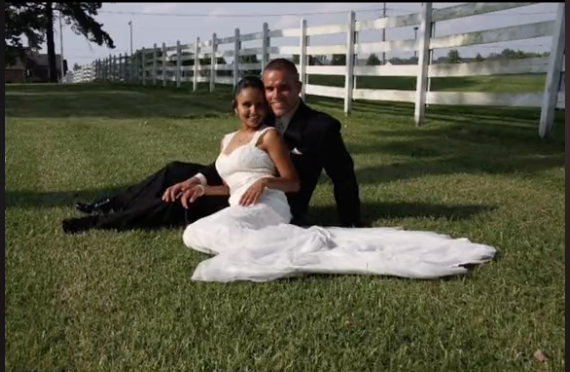 If you don't believe in fate, this story just might change your mind. In October 2009, Brenda Stearns, now 35, was living in Ohio and intended to send a friend a text message of a Bible verse as a little pick-me-up. 
The message she received back took her breath away. She'd sent the message to the wrong number, but in doing so changed her life forever.
"I sent a Bible scripture message to all of my contacts, which at the time I didn't have many. Maybe only like ten people," Brenda told The New York Post. "A few minutes later, the phone number which I thought belonged to a friend replied saying, 'Amen to that, who is this?'"

The 35-year-old, who was trying to share the excerpt with her pal in 2009, now believes it was "an act of fate." Isaiah would have never received the message if she had sent it any sooner.

Isaiah, 40, had just purchased a new phone 30 minutes before receiving the text made in heaven, but the pair were separated by 800 miles at the time.

The pair began texting, just as friends at first, then it evolved into phone calls. Upon hearing his voice, Brenda said she knew he was "authentic" – and it was love at first dial.
Brenda told The Daily Mail, "Isaiah had just got a new phone with a new company. That morning, the number wasn't working, so he had to go to the phone company and get a new number.
"Only 30 minutes after he got a new number, he received my text." 
Isaiah immediately believed there must be a reason for getting his text message and wanted to continue the conversation. He at least wanted to say thank you over the phone for Brenda's little pick-me-up. 
The newspaper continued: "What started out as a friendship soon blossomed into romance after Brenda's mom, Rossy, met Isaiah one day for dinner and afterwards told her over the phone 'you're going to marry this guy' – despite being 800 miles apart.
The 'meant to be' couple got engaged just four months after the mistaken text was sent in February 2010, and were married in June of that same year."
"'I viewed it as, this is another person who can help me in my walk with God,' he told Today's Jenna Hager Bush. 
Brenda Rivera Stearns and Isaiah Stearns, 41, will celebrate their 13-year wedding anniversary in June. 
The couple are parents of six children: Victoria, 11, Veronica, 10, Samuel, 9, Vanessa, 7, Benjamin, 4, and Ezra, 1. Brenda regularly shares videos and photos of her family on TikTok and Instagram."
View this post on Instagram
[Read More: He Woke To His Wife Screaming And Couldn't Believe What His Dog Was Doing]