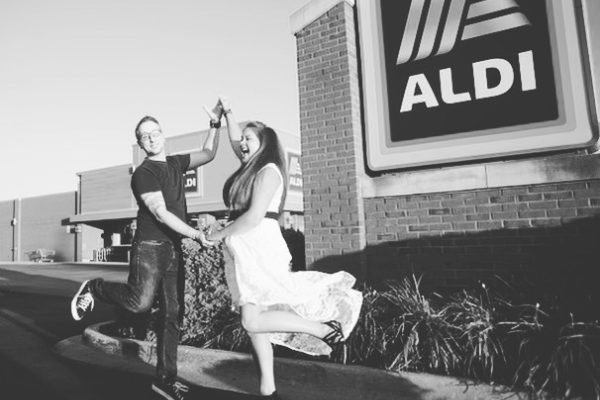 When it comes to getting married people go to a tropical island, others reserve a country club, or go to their church, or even find a little chapel in Las Vegas, but for Michael Hurd and Jessica Bojanowski they wanted to get hitched in their favorite place: Aldi. Yes, Aldi, the grocery store.
On November 9th, the happy couple exchanged vows at the supermarket's location in Batavia, Illinois.
In an interview with People, they said, "Getting married at ALDI feels like a dream come true. It has always been a key part of our relationship. We work opposite schedules, so weekends are the only time we get to really see each other. We've always cherished our Sunday morning ALDI shopping dates. It's something we look forward to doing together each week."
In August, the grocery chain announced "Happily Ever Aldi," writing in press release: "Celebrating some of life's most important milestones with ALDI has become an ALDI thing among our biggest fans. In fact, they've shown their #ALDILove with ALDI-themed marriage proposals, engagement photos, birthdays and even baby showers. Now, one lucky couple will have the chance to get married in our aisles with the ALDI-themed wedding of their dreams. But before we start popping bottles of Belletti Prosecco in their honor, we need to find the perfect pair.
"Every time our shoppers include us in one of their big moments, we feel the #ALDILove," said Kate Kirkpatrick, Director of Communications at ALDI USA. "We're showing our #ALDILove in return by giving one crazy-in-love-with-ALDI couple an opportunity to celebrate the ultimate life milestone with us."
After hearing about the contest, Hurd and Bojanowski entered immediately. Shortly afterward, they found out they won the big prize by telling the grocery giant "what makes their love story special and why they deserve to be the first couple ever to be married at ALDI."
"The people who know us best, know we're obsessed with ALDI, so they were excited for us when we told them we won this contest," Yahoo reported the couple as saying. "We still can't believe we had the opportunity to get married in one of our favorite places, surrounded by all our family and friends," they added.
"Following the pair's nuptials, which were officiated by one of the grocery stores employees, guests headed to the wine and beer section for the reception. Hors d'oeuvres included chicken sliders, jumbo coconut shrimp and a charcuterie board that spanned an entire check lane, while their signature cocktail featured two different types of hard cider. The couple's three-tiered cake was carrot with a wedding cake topper that featured a shopping cart and quarter."
The final gift from ALDI? Groceries for a year "to remind the newlyweds that they're never far from our hearts."
Congratulations to the bride and groom! I guess their neighbors will always know who to ask if they ever need to borrow a cup of sugar. 
[Read More: A Chick-fil-a Is Changing The Meaning Of Work Week]