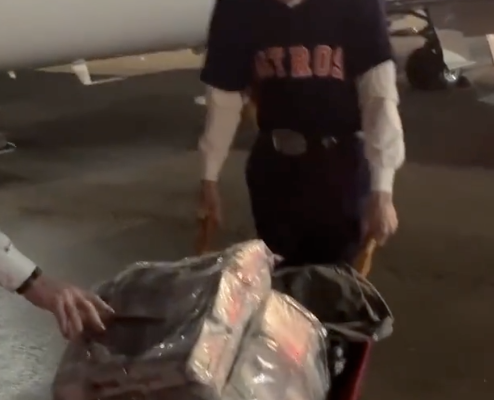 Beloved Houston furniture retailer Mattress Mack has set the record for highest ever payout on a sports bet. The store owner won $75 million after the Houston Astros won the World Series, and it's going to cost major sports betting operators Caesars and Penn Entertainment this upcoming financial quarter.
Earlier in the week, video captured Mack using a wheelbarrow to carry $10 million in cash out of Caesars casino. 
Mattress Mack moving $10M in cash might be the biggest flex I ever seen.pic.twitter.com/pGqsaNTvbN

— Overtime (@overtime) November 11, 2022
CNBC writes, "Jim 'Mattress Mack' McIngvale, the Texas furniture salesman who famously hedges his sports bets with furniture promotions, placed $10 million on his beloved Houston Astros to win this year's World Series, across several wagers.
With the Astros' second-ever World Series win on Saturday, McIngvale clinched a $75 million payout. Of that total, Caesars will take the biggest hit, paying out $30 million from McIngvale's May 13 bet on the Astros for $3 million at 10-1 odds.
"I think most of you are aware, we've got a fairly high-profile liability out there with the Astros. So that will be a swing factor in whether fourth quarter is positive as a whole," Caesars CEO Tom Reeg warned on the company's Nov. 1 earnings call.
Penn Entertainment CEO Jay Snowden on the company's Nov. 3 earnings call similarly warned about the company's profitability in light of McIngvale's bet via Penn's sportsbook Barstool — and urged listeners to root for the Philadelphia Phillies instead."
Ken Fuchs, COO of Caesar Digital said, "What can we say? We just wrote the biggest check in sports betting history to Mattress Mack for $30,000,000. Would we do it all again? You bet. While Mack may have won this round on the field, we're proud of how we teamed up to support first responders and military veterans in Houston, Philly, and Atlantic City. And to Mack – we tip our Astros cap – and remind him that he can now support his Texans and Rockets…both attractively priced at +100000 to win a championship. The Astros are also currently +550 to win next year's Fall Classic."
Mack used the bet as a hedge against his own World Series promotion. A local Fox news station reported that during the baseball playoffs he had offered incentives to customers to shop at his popular furniture store, Gallery Furniture. If customers spent $3,000 on certain mattresses, he would give them a refund if the Astros won the World Series.
"Having placed multiple big bets with Caesars, Mack now has more than 11.3 million Caesars Rewards points. These points can be redeemed for unbeatable Caesars Rewards experiences, including discounted getaways at Caesar's destinations across the U.S., world-class culinary experiences, unrivaled entertainment, and more. Mack mentioned he plans to redeem his rewards points to treat his hard-working Gallery Furniture staff to an unforgettable experience at Caesars Palace soon.
And in case you missed it, Caesars Sportsbook, Mack, and Tempur-Sealy celebrated this historic bet by providing new mattresses to First Responders, Military Vets, and Active Duty military members in both World Series cities of Houston and Philly, as well as Atlantic City, during the Fall Classic."
Mattress Mack expressed appreciation on Twitter for his city and their baseball team. He said, in part, "You've always been there for me, for your neighbor, for your community, for our city, for our state, for our country, and I'm grateful to you. With tears in my eyes and a heavy heart, I'm sincerely grateful to you. I love Houston."
— @MattressMack (@MattressMack) November 6, 2022
The Houston Astros defeated the Philadelphia Phillies in six games during this year's World Series.