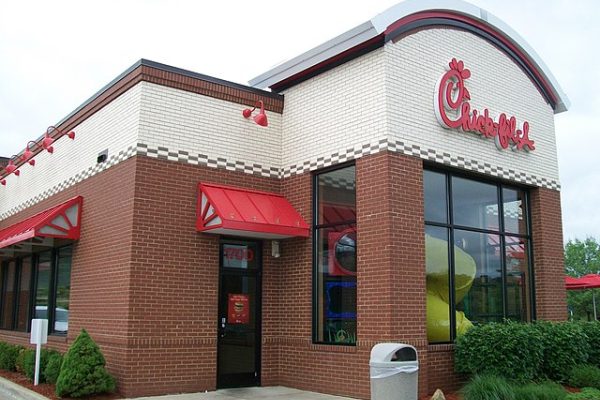 Everyone knows about Chick-Fil-A's policy of being closed on Sundays to observe the Sabbath. "Even locations in airports and sports stadiums remain closed on Sunday, despite the massive number of travelers and hungry football fans seeking fried-chicken sandwiches," according to Business Insider. This move costs the company about a billion dollars in sales every year.  
"Closing our business on Sunday, the Lord's Day, is our way of honoring God and showing our loyalty to Him," Chick-fil-A founder Truett Cathy wrote in his book Eat Mor Chikin: Inspire More People. 
He continued: "My brother Ben and I closed our first restaurant on the first Sunday after we opened in 1946, and my children have committed to closing our restaurants on Sundays long after I'm gone. I believe God honors our decision and sets before us unexpected opportunities to do greater work for Him because of our loyalty." 
Business analysts have praised Chick-fil-A's policy because it helps its employees avoid getting burned out. Now one franchise owner is taking things a little bit further. 
USA Today writes, Justin Lindsey, a Chick-fil-A owner in Florida took it a step further by switching to a three-day, 14-hour work week.

Justin Lindsey, the local operator of Chick-fil-A Kendall, said he designed the program with the goal of reducing burnout, increasing retention and giving employees a consistent work schedule, according to reports.

"My idea was to provide staff with this gift of time by creating a scheduling system where they would know exactly what days they worked for as long as they work here," Lindsey told Insider.

Lindsey said the condensed work week and consistent schedule allows workers to plan their lives outside of work in advance."
In a recent essay explaining his decision, Lindsey said that when he opened his restaurant he wanted to "lead with generosity." He wrote, "For me, that has two main parts: One is pay, making sure we paid a really competitive wage. And the second is time, to provide my teams with more of a balanced approach to the job. 
Traditionally, we had used the term "the gift of time" to refer to serving our guests in a quick and timely fashion. But we had always left employees out of that equation. My idea was to provide staff with this gift of time by creating a scheduling system where they would know exactly what days they worked for as long as they work here. 
From one week to the next, employees' days off changed pretty dramatically, so I set out on a mission to see if I could create a more consistent schedule. What came out of it was the existing three-day workweek that we use now.
Now employees can look at the calendar six months in advance and know these are the three days that they work on any given week. Traditionally, at least at Chick-fil-A, that was never a possibility before."
Lindsey claims that the move has already paid off. "I saw us flip the switch and go to this program and build this structure into it, and employees were energized, excited and goal-focused, and driven," he told The Epoch Times. 
Since the change, the team is closer and pods are even tighter-knit, according to Lindsey. There's even healthy competition between them for inspections and service timings.
Working fewer but longer shifts allows individuals to shine.
Lindsey said: 'You're there with that same group of people for 13, 14 hours a day … we're going to able to see where the opportunities are and really work through them. At the same time, we'll be able to capitalize on seeing when somebody is really knocking the ball out of the park and say, 'Okay, what do we need to do to get this person moved up in the ranks?'"
The business owner said that he has seen a boom in job applications since he implemented his new work schedule. His chicken restaurant aims to do $17 million in sales this year. 
[Read More: Meet The Hero Pothole Artists of Chicago]