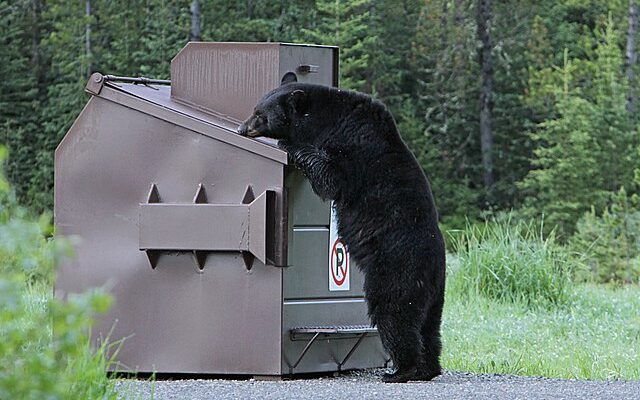 A few bakers in Connecticut had the scare of their life recently. Workers for the bakery Taste by Spellbound in the town of Avon were loading cupcakes in a van when a huge, hungry bear revealed that it had been hiding behind a dumpster. 
"It was a little shocking," said Maureen Williams, an employee from the bakery, told local news. "The adrenaline was pumping after that one, for sure."
Maureen yelled to try and scare the bear off, but it was persistent. He came back three times before she could get the garage door closed.
"It turned around, and came towards me, and he did what DEEP calls a 'bluff charge,' where he made kind of a huffing noise, and then he came at me a little quicker," Williams continued. "At that point, I knew I wasn't going to shut the door. He was too close. So, I backed myself out and ran."
Some of the workers ran around the side of the building to try and scare the bear, but he didn't back down. Instead, the bear grabbed a container out of the van and pulled it into theparking lot, where it helped itself to 60 cupcakes.
"We made lots of noise to try and get him to go away," Williams said. "One of our bakers got in their car and drove around the back and found him sitting there eating all of our stuff. [They] honked on the horn quite a bit to get him to go away, and finally he went away," WTNH wrote.
Taste by Spellbound posted the video of the bear munching away on Facebook. 
Police and officers from the Connecticut Department of Energy and Environmental Protection responded after Maureen called 911 but the bear had already escaped.
The bakery said no one was harmed and added that the bear was not hurt, thankfully.
"There has been a recent uptick in bear sightings throughout the area, as well as across the nation, with environmental officials warning the public that bears often go after bird seed as a meal.
Residents have also been advised not to leave small pets unattended, and bring in dog or cat food that might be kept outside, as bears are looking for a food source.
There have also been a few bear attacks.
A 74-year-old woman suffered bites to her arms and legs last month when she was attacked by a bear while walking her dog in a Hartford suburb, the first such attack this year. There were two attacks last year, including one in October where a 10-year-old boy was mauled in a backyard," according to local reports.
We're glad everyone was OK, but we think you can't blame the bear this time around: looking at those cupcakes would make anyone's mouth water.