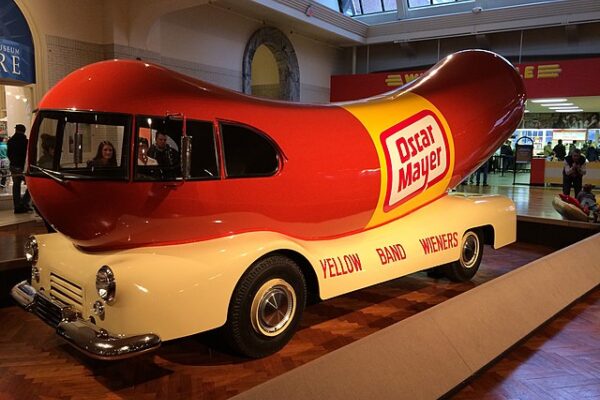 People are always looking for different ways to get married. Some couples go to the courthouse. Others get married in their local places of worship, golf courses, farms, or in the case of one couple, their local grocery. The more adventurous may hold a destination wedding in an exotic place.
But, if you get married here, you will be the talk of the town for ages.
Soon, in Las Vegas, the more quirky among us will be able to have their wedding in one of the most unique places of all. People reports that "Oscar Mayer is ready to spice up Sin City with its Wienermobile of Love.
From April 15 to April 16, fans of the iconic hot-dog-shaped vehicle will have the chance to say "I do" in its newly revamped Wienermobile located outside the Las Vegas' Little White Chapel."
The company said that weddings are often described as the happiest day of couples' lives, but getting to that point is not always a cakewalk. Between rising costs, large guest lists and oh-so-many opinions, 72% of couples report feeling stressed about planning the big day.1 Oscar Mayer is bringing some much-needed relief by providing couples the chance to trade in the hoopla of a traditional wedding in favor of something stress-free and fun: an elopement to the Wienermobile outside the iconic Little White Wedding Chapel in Las Vegas. The weddings will take place on April 15 and 16, where lucky couples will be treated to a unique all-expenses-paid ceremony and wed by Oscar Mayer's beloved Hotdoggers!

"From proposals and surprise meat-ups down the aisle to playing matchmaker to some of our own Hotdoggers, the Oscar Mayer Wienermobile has held a special place in fans' hearts – so much so, we receive thousands of requests each and every year to be part of couples' big days," said Ed Roland, Sr. Manager Brand Communications for Oscar Mayer at The Kraft Heinz Company. "Now, as more people seek stress-free ceremonies with their partners, our Hotdoggers are thrilled to reignite the joy of this special day and give them a once-in-a-lifetime experience: a wedding through a pair of meat-colored glasses."

Oscar Mayer has a legacy of sparking smiles and bringing levity to the everyday, particularly when things have gotten too serious. From the famed "Oh I Wish" jingle to the iconic bologna face mask, it's been love at first bite for generations of Americans. The "Wienermobile of Love" is a natural extension of Oscar Mayer's iconic brand platform, "Keep It Oscar," focused on saving people from taking things too seriously, freeing people up to enjoy themselves with seriously delicious meats. From a live wiener whistle quartet to a wonderfully odd wiener cake, the 27-foot hot dog on wheels and its Hotdoggers will be dressed to impress, serving up a unique, joyful wedding experience only Oscar Mayer can.

Hot dog lovers across the nation can sign up on OscarMayer.com, available on a first come first serve basis. Bring your marriage license and appetite – Hotdoggers will "meat" you down the aisle.
A van shaped like a hot dog on a bun, the Oscar Meyer Weinermobile first hit the road in 1936, bringing to smiles to everyone who sees it driving down the highway. 
"There are six Wienermobiles and they tour the country all year long, so it's likely that there's a Wienermobile near you at any given time. However, if you don't want to download the Wienermobile app to find out where the nearest Wienermobile is, you can track all six online via the Oscar Mayer Wienermobile tracker.
Use the tracker and enter your street address, city, or state to find the mobiles' current locations. You can also check out the mobiles' upcoming schedules so you can plan your own around meeting up with one. The schedules are published two months in advance and then further updates are made to the schedules closer to appearance time, as specific addresses and times are finalized. You never know quite where you'll find a Wienermobile. The hotdoggers take the mobiles out to a variety of events and locations. You might spot them rolling down the street in your town's annual holiday parade or catch one parked in your favorite grocery store's lot, wrote The Daily Meal.
Oscar Meyer often travels the country, allowing people to check out the inside of the Weinermobile. In 2021, the even put the hotdog-on-wheels to work as a Lyft vehicle, allowing users of the ridesharing app an opportunity to book the world-famous automobile for a ride.
One thing will be certain, if you get married in the Weinermobile, people will always talk about your wedding! 
[Read More: This Guy Walked Into The Hospital Lobby And Everyone Ran and Hid]