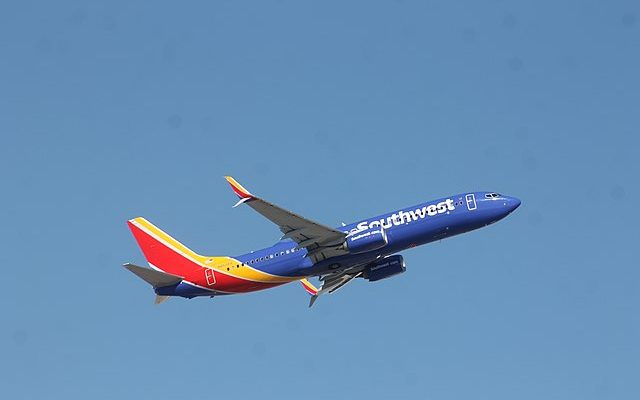 A grandmother in Texas has gotten back her wings. After taking two decades off to stay home to raise her children, Tamaron Nicklas accomplished her dream of being a pilot for Southwest Airlines.
She talked to local news about what it was like to step away from her Air Force career before getting back in the saddle after 20 years. 
"I was in the Air Force for about seven and a half years. We were able to refuel all sorts of different types of aircraft," Nicklas stated. "We went through Hawaii to Guam, got to fly to Australia, the Philippines, Korea."
As she started a family, however, it became more of a challenge for her to focus on her Air Force work.
She said, "I worked really hard to get back into flying. I found out I was pregnant with our third, and at that point I just thought, I don't think I can do this," Nicklas said. "I really actually struggled with it for a while after I'd walked away, just in that you know, that it's your identity."
The Epoch Times communicated with Tamaron and got more details about her remarkable career. 
A trailblazer who was an Air Force pilot for more than seven years and then quit as a T38 instructor to raise her children has returned to the cockpit after a 24-year hiatus, alongside her husband, a commercial jet pilot. Her reentry into the world of flying has left her "grinning ear to ear."

Mom-of-four Tamaron Nicklas, 58, of Dallas, Texas, graduated Air Force Academy in 1986 as a member of the seventh class ever allowing women to enlist. When she gave up her career to raise a family, she assumed she would never fly again, so stepping into the cockpit of a Southwest Airlines aircraft with her husband, Larry, was a dream come true.

Tamaron told The Epoch Times: "Truly, both he and I looked at each other and said, 'You know, I think I need to pinch myself. This is actually happening.' I didn't know if we should tell the passengers, but he was immediately so proud and announced, 'This is my wife's first flight at Southwest Airlines.' Then one of the flight attendants also made some announcement, and everybody in the back … rousing applause!"

"It's never too late," Tamaron said, recalling a serendipitous experience. "Actually … I opened a dark chocolate bar, and on the inside, the wrapper said, 'You're never too old and it's never too late.' It really inspired me … I felt like God was talking to me through a chocolate bar!'
NBC 5 reported, "And after two years of adapting to new technology and flying alongside pilots her children's age, Nicklas was hired by Dallas-based Southwest Airlines.
When it came time for her inaugural flight, she did it alongside her husband, Capt. Nicklas, who's flown for the airline for nearly 30 years."
"I'm super proud of her. It's hard enough to just do your everyday job as opposed to something you haven't done in 24 years," Larry told the news station.
Now, as a new first officer, Tamaron said that she hopes she's showing her children and granddaughters to chase their dreams no matter what and no matter how long it takes. 
'Whatever you want to do, just work hard and you're going to do it.'"
Who knows? Next time you fly the friendly skies, it might be Tamaron doing the flying.