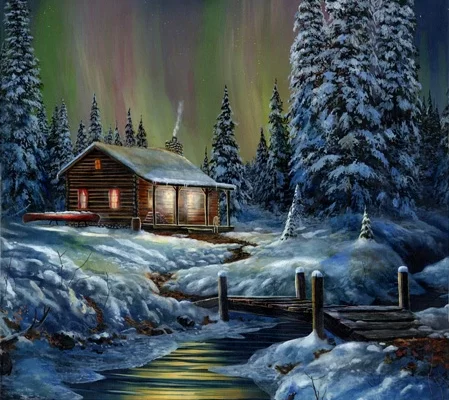 Sometimes you have to see it to believe it, and other times you don't need to see it all to do it. For Jim Hansel, who was diagnosed with a severe degenerative eye disease called Stargardts at age 6, not being able to see well has not stopped him from being one of the best painters in North America.
The Epoch Times has the story: One of the most collected artists in the U.S. and Canada has a very unique story. He pursued his passion for painting despite being diagnosed as legally blind at the age of 6. Through faith and persistence, he has shared his personal vision in oil on canvas for over three decades and left an indelible mark on the art world.

Minnesota-born and bred, artist Jim Hansel, 62, lives in Chaska, Minnesota, with his wife, Lois, and his son and daughter. He's worked as a professional painter since 1985 and has to date completed hundreds of versatile paintings celebrating Americana, nature, and wildlife. His soulful artwork gives viewers the feeling that they can actually step right into the painting and be a part of it.

"I don't think of my vision issues as a disability, I like to think of it as discovering one's abilities," Hansel told The Epoch Times.

"Even from an early age, I knew I was an artist. I started with 'paint by numbers' and just kind of went from there. The first class I took, I was a freshman in high school. Even with my vision issues, it was something that I wanted to see if I could pursue."
Hansel was the subject of an incredible documentary that showed how he creates such incredible artwork. 
VISION – Seeing is Believing – Multiple Film Festival Winner & Emmy Winner from Creative Soul Video on Vimeo.
Jim's website says, "At a young age, Jim began to demonstrate his artistic ability. Throughout his life, he never swayed from his childhood dream of becoming an artist. Jim's love of wildlife and the outdoors has been the subject of his artwork for many years. However, Jim's ability to paint these images has not come without its challenges. Despite his visual limitations and that the world we see is not always the world Jim sees, he has learned to create beautifully detailed images with the use of magnifiers and low-vision devices. As Jim paints in the detail work on a painting, he is working only one or two inches away from the canvas. Yet, while he painstakingly adds these details, he has a clear picture in his mind of the final product.
Hansel also relies on his camera to capture his ideas and bring them into focus. Like many other artists, Jim uses photographs to bring the landscape and subjects back to his studio. At this point, he will enlarge the images, if it is necessary, for him to see them more clearly. But, snapping pictures is not the same as painting original oils. Amazingly, as Jim puts on his glasses and begins his brush strokes, his paintings come into focus. But, only a few square inches at a time.
Hansel believes that due to his vision, he spends more time on a painting adding more detail than many other artists. He has spent up to four months on a single painting.
Jim has said that he wants his artwork to be judged on its own merit and not on the basis that he is an artist with a visual impairment. This determination has launched him into the national spotlight. Since the release of his first image in 1987, Jim has produced over 200 limited edition prints. Many of the editions are sold out. His reputation for detail and his distinctive, colorful landscapes have proven to be very popular with art collectors worldwide.
Jim has also received much recognition and numerous awards for his work. In recent years, Jim has been commissioned to produce several paintings, which have been featured by Ducks Unlimited, Pheasants Forever, The Minnesota Deer Hunters Association and TIP (Turn in Poachers). The limited edition prints are being used to raise money for these conservation organizations. Hansel has been honored with many other awards to his credit. He believes that hard work and perseverance is why he has been so successful."
Read More: New Yorkers Experiencing Subway Delay Get A Pleasant Surprise]