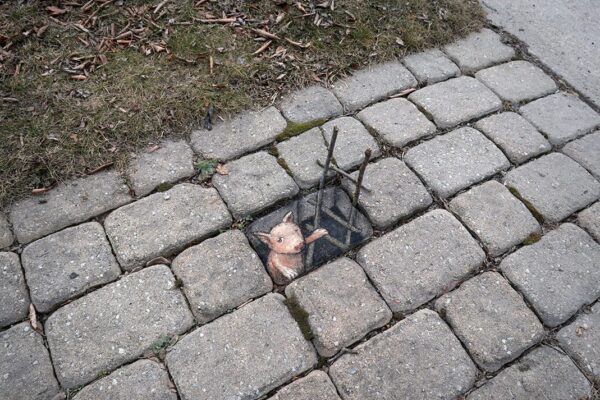 Rembrandt used canvas and Michaelangelo used marble. David Zinn, a local artist from the college town of Ann Arbor, he uses every day objects he sees on the sidewalk. "It was March 2020, the beginning of the pandemic, and David Zinn, a local street artist, stepped out into the empty streets of Ann Arbor looking for something to draw. Storefronts were close to abandoned, Ann Arbor shop displays were emptied, and the elementary school artwork hanging on the windows after Youth Art Month were clinging to what was left of the scotch tape. 
This is where Zinn said he found his inspiration — a piece of pottery that was shaped like a narwhal on display behind a window. He took to his own canvas, kneeling on the concrete sidewalk in front of the window, and got to work. When he was finished, a narwhal was looking up at the piece of pottery, utterly in love.
Stories like this, and more, are featured in Zinn's newest book, 'Chance Encounters.' Zinn, an Ann Arbor native and University of Michigan alum, has been a source of happiness for many locals throughout his time in Ann Arbor," according to The Michigan Daily.
Amazing street art by David Zinn… pic.twitter.com/9pYPCbZPmi

— Tansu YEĞEN (@TansuYegen) October 17, 2022
He told the college newspaper that his love for the everyday items we see on a walk began with his goal of being outside more. "When we do get beautiful weather, it's a special thing, because you know there's lots of other weather coming very soon," Zinn said. "So finding excuses to be outside on nice days is, I think, a logical priority, and (drawing) was mine."
Artist David Zinn's drawings combining his imagination with objects he sees on the street pic.twitter.com/K2WU76JPpi

— Great Videos (@Enezator) November 1, 2022
The artist's website says he "has been creating original artwork in and around Ann Arbor, Michigan since 1987. For more than twenty years, he freelanced for a wide variety of commercial clients while simultaneously sneaking "pointless" art into the world at large.
His professional commissions included theatrical posters, business logos, educational cartoons, landfill murals, environmental superheroes, corporate allegories and hand-painted dump trucks, and his less practical creations involved bar coasters, restaurant placemats, cake icing, and snow.
Now, thanks to the temptations of a box of sidewalk chalk on an unusually sunny day, Mr. Zinn is known all over the world for the art he creates under his feet. David's temporary street drawings are composed entirely of chalk, charcoal and found objects, and are always improvised on location through a process known as "pareidolic anamorphosis" or "anamorphic pareidolia."
Most of his creatures appear on sidewalks in Michigan, but many have surfaced as far away as subway platforms in Manhattan, village squares in Sweden and street corners in Taiwan. He has achieved global notoriety through sharing on the pages of Facebook, Instagram, Huffington Post, Graffiti Art Magazine, Bored Panda, Central China Television, Street Art Utopia, and Archie McPhee's Endless Geyser of Awesome.
His most frequent characters are Sluggo (a bright green monster with stalk eyes and irreverent habits) and Philomena (a phlegmatic flying pig), but the diversity of Mr. Zinn's menagerie seems to be limited only by the size of the sidewalk and the spirit of the day."
Early Thursday David Zinn Street Art pic.twitter.com/jsPRg6HzFO

— jonathan slater☮️(blue check mark) (@jonslater37) November 3, 2022
My Modern Met explained his artwork: "Zinn draws a range of quirky animal characters in his distinct, cartoon-like style. Each one is cleverly rendered to look as though it is interacting with the surrounding environment. His drawing of a green frog, for instance, utilizes a sprinkler head in the background as the shape of the amphibian's right eye. Similarly, a small pink rabbit in a tutu walks across the division in the sidewalk as though it were a tightrope. Not only do these choices bring Zinn's art to life, but they also infuse the real world with some of his enchanting imagination.
Another trait that makes Zinn's art stand out is the use of perspective. Many of his illustrations appear to have three-dimensional depth, which makes them look like cartoon portals. For instance, in one installation, Zinn redraws a square of the sidewalk to make it seem as though it opens into a blue sky and a pig is flying out. In another, he draws over a brick so that it looks like a small mouse lives inside and is peering outwards. 
These small touches make his art infinitely more enjoyable to look at.
If you'd like to learn how to draw like Zinn, he has a new book out called Chalk Art Handbook that contains all of his "tricks and secrets."
Who doesn't love seeing an artist beautify their community and bring joy to people's faces? You can see more of David's work at his online store. 
His most recent book puts all his chalk art tricks and techniques into one easily accessible manual if you're interested in drawing a Sluggo of your own.