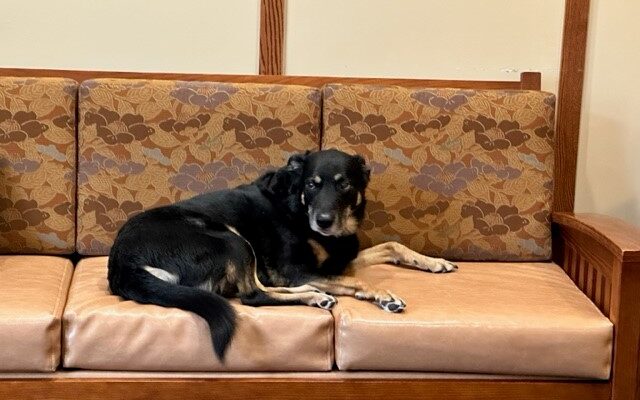 It's often been said that your animal chooses you, not the other way around. That's exactly what's happened at a nursing home in northern Michigan. 
Scout, a stray dog, originally escaped from local animal control, "climbed over one tall fence and then another, crossed a busy highway in the darkness, entered the automatic doors of a nursing home down the road," and plopped down on a couch unnoticed in the lobby of Meadow Brook Medical Care Facility in Bellaire, Michigan.
An astonished nurse there found him the next morning. She called Antrim County Animal Control, whose shelter happens to be just down the road. And they discovered that he'd escaped from there the night before, writes the Detroit Free Press.

Scout was a stray mutt. He had no identity, no history. The shelter staff gave him his new name, but otherwise they knew nothing about him, though they noticed he had the distinct demeanor of an abused dog. Somebody apparently once shot him too, with BBs or birdshot, because his jowl still had some kind of round pellets embedded in it. You couldn't see them, but you could feel them if he let you touch him.

But a few nights later there was Scout, back on that same couch in the nursing home lobby. Somehow he again scaled a 10-foot chain-link fence, then a 6-foot solid privacy fence, crossed a highway without getting run over, entered the front door unnoticed, jumped onto the same couch as before and made himself at home for the night.

A call was placed again. He was brought back to the shelter again.

Just a couple of nights after that, Scout was back on the couch for the third time.
After the third time, the staff at the center finally got it through their heads: Scout was there to stay. 
"He's always watching, making sure everybody's OK," Martinek told the newspaper. "If somebody is in the passing process, he's in and out of the room, checking on them. He'll even want to climb in bed with them."
"He can sense that," added Stephanie Elsey, the facility's clinical care coordinator. "We've had a few in the past whose room he won't leave. We had a resident that when he was passing away, Scout wouldn't leave his room. He makes a good nursing home dog. He knows his job and he's good at what he does."
Today, the staff at the facility say Scout acts as their protector.
"He knows all the residents. He knows who belongs who doesn't belong, and he protects the household," explained Jenny Martinek, Meadow Brook Household Coordinator.
"And he knows when people are sick or you know not doing well and he will go in and lay with them and give them comfort," added Stephanie Elsey, Clinical Care Coordinator at Meadow Brook.
Sometimes angels appear in ways you'd least expect them. 
[Read More: The Search Is On For Finding This Legendary Creature]