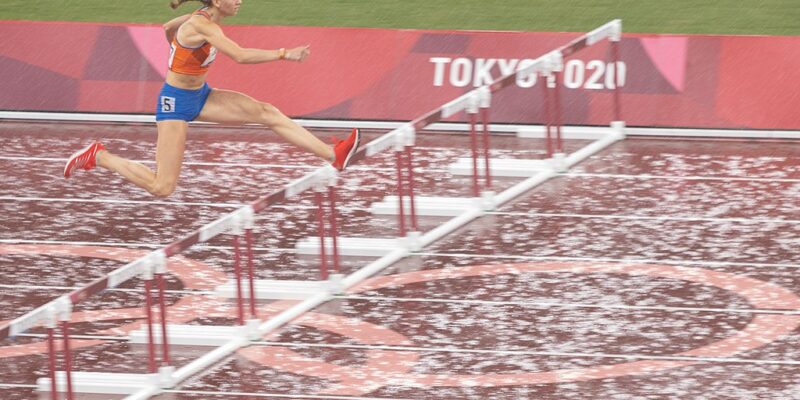 The longest-held world record in track and field finally went down earlier in the week. NBC Sports reports, "Femke Bol, the Olympic 400m hurdles bronze medalist, broke the longest-standing world record in a track race, taking down a 41-year-old record in the women's indoor 400m on Sunday.
Bol, 22, ran 49.26 seconds at the Dutch indoor championships in Apeldoorn.
"When I crossed the line I knew that the record was mine, because of the noise that the crowd made," she said, according to World Athletics.
She broke Czech Jarmila Kratochvilova's world record of 49.59 from March 1982. That was the longest-standing world record in any track race that's on the Olympic or world outdoor or indoor championships program."
🚨 WORLD RECORD 🚨

Femke Bol goes 49.26 to shatter the indoor 400m world record!

— Chris Chavez (@ChrisChavez) February 19, 2023
"14,959 days. A few weeks short of 41 years. Even in an era of supershoes and bouncy tracks, that's how long the world record for 400m indoors has stood – until last night, when superstar Femke Bol smashed it in front of a home crowd at the Dutch championships. And in just 49.26 seconds, Bol broke the oldest standing world record in track and field," according to Runner's World.
"Not only was it a stunning performance from the 22-year-old, but it also wipes clean a record that many have long considered suspect, coming as it did at the height of state-sponsored doping programmes behind the Iron Curtain. The previous holder, Czech athlete Jamila Kratochvílová, never tested positive, and maintains her innocence, claiming that it was high doses of vitamin B12 that account for her astonishing performances and physique. Many would still raise a skeptical eyebrow."
This won't be the last time you see Kratochvilova's name in the record books, however. The running magazine said that her other world record, the 800 meter, might be the toughest record to break. 
"Kratochvílová's name appears again – her record of 1:53.28 has stood since 26 July 1983 and is a frankly jaw-dropping margin ahead of any time run in the last 40 years. The closest in the current era is American star Athing Mu, who ran 1:55.04 at the Prefontaine Classic in 2021. Yet despite a clutch of Olympic golds, and a generational talent, that's still nearly two seconds slower that the WR – a gap that on a track race would look enormous. With Mu and GB's own Keely Hodgkinson battling for 800m dominance, it's possible they may inch closer to the record, but it's hard to believe it will fall any time soon – even though both are still very young, and have access to the next generation of track spikes."
The young runner told CNN, "I am glad that I did not just get the record, but that I improved it by a big margin."
Bol's already racking up quite the resume. Femke won the 400m hurdle bronze in Tokyo and silver at the world championships last year. She also set a world-best in the 300m hurdle last year and ran a world indoor best 500m earlier this year.
"Bol is the third-fastest woman in history in the 400m hurdle," CNN noted, "only behind Sydney McLaughlin-Levrone and Dalilah Muhammad, both of whom finished ahead of Bol in Tokyo.
The outdoor 400m world record is 47.60 and was set by German Marita Koch in 1985."
[Read More: Daughter's Ultrasound Gives Her Father A Reason To Live]