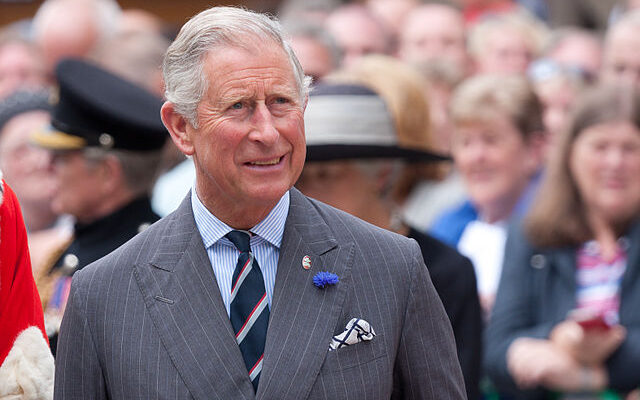 Although his grand coronation will be the talk of the world, King Charles won't be the only person traveling through parts of London in a luxurious horse-drawn carriage next week.
If you have a phone and the Uber App, you'll be able to hail your own kingly carriage.
The ride-share company unveiled its new Coronation Carriage last week. London residents and visitors will be able to book the ride from May 3-5, ahead of the coronation at Westminster Abbey on May 6, Smithsonian Magazine reports.

A team of four regal white horses and a dapper, red coat-wearing driver will whisk passengers around Dulwich Park, the 76-acre green space located in southwest London. Appropriately, the main car-free thoroughfare that runs through the park is called Carriage Drive.

With a plush red interior, gold wheels, statuettes and other ornate decorations, the carriage is meant to resemble the one Charles will ride in. It has been "lovingly created using designs from previous royal carriages, giving riders the chance to ride in the kind of luxury only normally afforded to the highest ranks of the U.K. monarchy," writes Uber in the announcement.

While the Uber carriage is sure to be popular, the company says it will offer a limited number of rides each day. Interested customers should head to the park and look for the special carriage concierge to book a trip.
Uber appears to have spared little expense in designing these carriages. They want you to feel like a king or queen, at least for a limited time. 
"Reps for Uber say the carefully designed coach 'closely resembles the carriage the king himself will ride' and will be available for bookings on the days leading up to the Coronation, May 3 through May 5. The coach won't be able to take you to Heathrow, as it is doing limited trips around Dulwich Park, a 76-acre park in southwest London.
The special carriage will be accompanied by four white horses who will be wearing special Coronation outfits. 
"We're always looking for new ways to add a little Uber magic to people's journeys, so we are over the moon to be able to bring the Coronation Carriage to Uber," Uber UK general manager Andrew Brem said in a statement provided to Travel + Leisure."
The King's coronation will see two coaches pulled by a team of six and eight Windsor Greys, respectively. In recognition of their horses, Uber will also donate to Spana, a UK charity that advocates for the welfare of working animals.
You can learn more about the forthcoming biggest party in the world in the video below.
[Read More: Two researchers have cracked the code of the Maya]