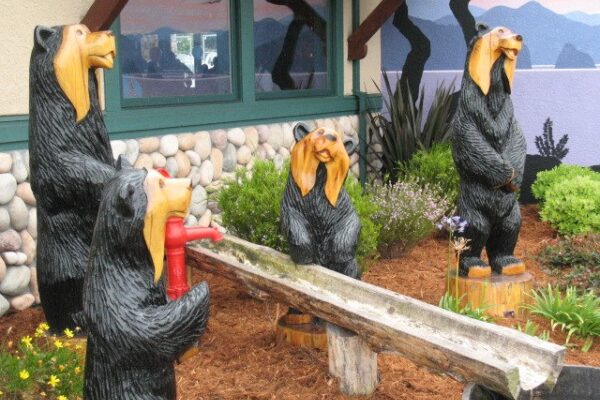 It looks like Yogi The Bear may have left Jellystone and moved to Connecticut. Several residents in The Nutmeg State reported that their Easter egg hunts were disrupted by bears jumping in on the search. 
One family caught a bear on camera as it went from egg to egg in their backyard, seeing how many could be munched on. 
Jennifer Lopez and her husband saw a bear eating candy out of their Easter eggs, according to Mass Live.

"All of a sudden, I hear shuffling or leaves, assuming it was the squirrels or chipmunks. However I was in for an awakening when I looked up and saw a mother bear with her cub. She worked her way to the eggs and started eating the chocolate," Lopez told the news station.

Connecticut's Department of Energy and Environmental Protection (DEEP) told the station that bears become unafraid of people when they have easy access to people's food. The department also said the first priority should be safety rather than taking a photo or video of a bear, when one is encountered, according to the report.

"Black bears should never be fed — either intentionally or unintentionally," said Jenny Dickson, DEEP Wildlife Division Director in a department in a department release. "Bears that are attracted to homes by easily accessible foods lose their fear of humans."
CT Insider noted that "according to social media, Connecticut residents have experienced run-ins with the animals all year. In 2022, most of these bear sightings were centralized in the northern and central regions of Connecticut, according to DEEP's 2022 'State of the Bears' report."
In one case, "A black bear hibernated underneath the porch of a couple in Plainville this past winter. After the initial discovery in December, the couple named the bear Marty and created him his own Instagram profile, which amassed more than 13,000 followers. On March 19, the family shared a video of Marty departing his den for the spring." 
Black bears are not "true hibernators," DEEP explained, but instead, they "practice denning from November to March and hide away from colder weather conditions. This is why bears have been spotted underneath fallen trees, sheds and in Marty the Bear's case, a deck.
DEEP also found that Black bear appearances have also been on the rise in Connecticut in recent years, with the number of reported sightings of sow, or female bears, with offspring nearly doubling over the past seven years."
There was no word on how many of the bears looking for Easter eggs were carrying picnic baskets. 
[Read More: This Weird Organism Will Clean Out Landfills For Free]