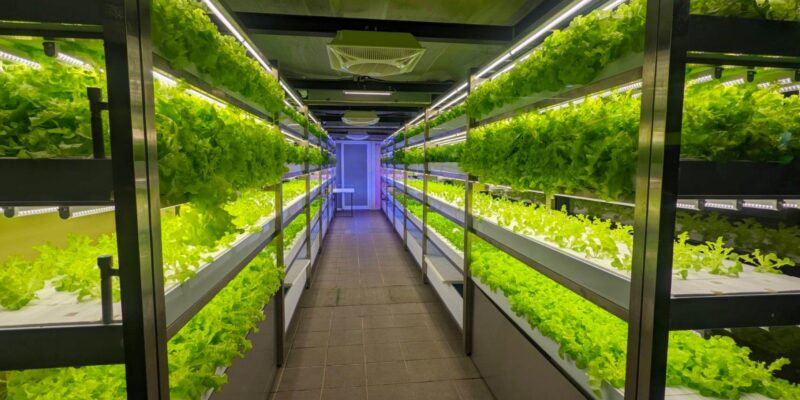 Taiwan is putting old metro stations to good use to grow some incredible food. Using advanced and efficient vertical farming, the old tunnels have been transformed into producers of highly in-demand, sustainable, clean and organic food for hungry commuters. Taiwan News reports, "The MRT Nanjing Fuxing station in Taipei has become an unlikely choice for vegetable farming as Taipei Metro seeks to provide conveniences for commuters beyond transportation.
An organic farm was inaugurated last week at the station where the Songshan-Xindian Line and Wenhu Line converge. Titled "Metro Fresh," the zone grows vegetables in a tech-enabled environment that ensures well-controlled humidity, temperatures, and other factors touted as an approach to unpolluted and healthy plant cultivation.
The greens and fresh salads will be put up for sale on the third floor of the MRT station. The farming zone also serves educational purposes, allowing elementary school students to learn about environmental technologies and improve ESG awareness, according to the Taipei Rapid Transit Corporation."
Upworthy wrote, "The country is now growing highly sought-after, clean, organic food in several unused spaces in major city hubs. Utilizing cutting-edge and effective vertical farming techniques, a new initiative is building upon sustainable agriculture in a metro station. The 40 square meters "Metro Fresh" hydroponic garden situated inside Nanjing-Fushing Station in Taipei, Taiwan's capital city, uses LED lights to produce vegetables like lettuce in a sterile environment without the use of pesticides or herbicides.

Julia Yang, an executive from the company that built the metro farm, Unimicron Technology, suggests to Euro News that most people generally worry about when it comes to traditional land-based farming is "the unavoidable usage of pesticides."

Vertical indoor farms, commonly referred to as "smart farms", have grown in popularity in Taiwan as the island's youth are hesitant to engage in agriculture. Jobs in the technology sector are more in demand among young people since they pay higher and provide more room for advancement. The IT industry has benefited from this shift to a different type of job in terms of research and technical experimentation."
I saw my first vertical farming operation in Taipei, Taiwan today. It was incredible. The LED light, which was created at @Illinois_Alma by the way, is changing the landscape of indoor food production. The leafy greens were delicious. pic.twitter.com/yUwh7Nm5lC

— Kim Kidwell (@Kidwell_IL) October 22, 2019
The USDA has high hopes for vertical farming in the United States. The Department recently said, "Imagine walking into your local grocery store on a frigid January day to pick up freshly harvested lettuce, fragrant basil, juicy sweet strawberries, and ripe red tomatoes – all of which were harvested at a local farm only hours before you'd arrived. You might be imagining buying that fresh produce from vertical farms where farmers can grow indoors year-round by controlling light, temperature, water, and oftentimes carbon dioxide levels as well. Generally, fresh produce grown in vertical farms travels only a few miles to reach grocery store shelves compared to conventional produce, which can travel thousands of miles by truck or plane.
Beyond providing fresh local produce, vertical agriculture could help increase food production and expand agricultural operations as the world's population is projected to exceed 9 billion by 2050. And by that same year, two out of every three people are expected to live in urban areas. Producing fresh greens and vegetables close to these growing urban populations could help meet growing global food demands in an environmentally responsible and sustainable way by reducing distribution chains to offer lower emissions, providing higher-nutrient produce, and drastically reducing water usage and runoff.
Recently, USDA and the Department of Energy held a stakeholder workshop focused on vertical agriculture and sustainable urban ecosystems. At this workshop, field experts shared thought-provoking presentations followed by small group discussions focusing on areas such as plant breeding, pest management, and engineering. Workshop attendees from public and private sectors worked together to identify the challenges, needs, and opportunities for vertical farming. A report on this workshop will be released to help inform Departmental strategic planning efforts for internal research priorities at USDA and external funding opportunities for stakeholders and researchers.
We're excited about the potential opportunities vertical agriculture presents to address food security. That's why USDA already has some of these funding and research opportunities in place. The National Institute for Food and Agriculture has funding opportunities that could support future vertical agriculture conferences and research. Similarly, the Agricultural Research Service is working on a project to increase U.S. tomato production and quality in greenhouses and other protected-environments. We look forward to continuing our partnership with our customers, both internal and external."
Looks like they should be sending people over to Taiwan to see how it's done. 
[Read More: Dog Comes Home FIVE YEARS After Being Lost In Hurricane]