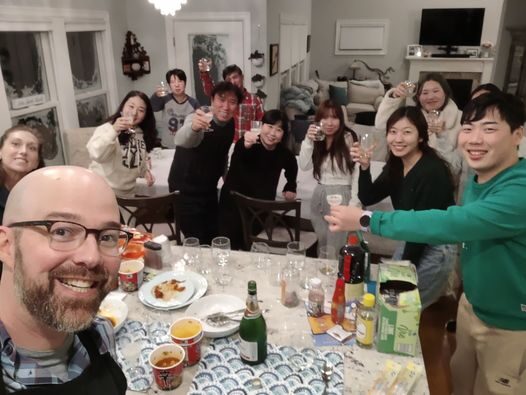 As most of us know, a gigantic and deadly blizzard hit Buffalo, New York, burying it in over 50 inches of snow and blasting with extreme blizzard conditions that reports said: "made for blinding drives over the Christmas weekend." The winter storm left the city frozen, stranding thousands of travelers. 
Those caught in the storm included a group of nine South Koreans on a bus driving from Washington, D.C. to see Niagra Falls. 
The New York Times wrote, Alexander Campagna and his wife, Andrea, lifelong residents of Buffalo, were ready to wait the blizzard out. They had stocked the fridge and planned for a quiet holiday weekend indoors at their home in suburban Williamsville, N.Y., as long as the power stayed on.

Then, on Friday at 2 p.m., with the storm already swirling and snow rapidly piling up, making roads impassable, there was a knock at the door. Two men, part of a group of nine tourists from South Korea that was traveling to Niagara Falls, asked for shovels to dig their passenger van out of a ditch.

The Campagnas, well aware of the dangers the storm presented, immediately invited the travelers in, "knowing, as a Buffalonian, this is on another level, the Darth Vader of storms," Mr. Campagna said.

The visitors — seven women and three men — filled the three-bedroom house, sleeping on couches, sleeping bags, an air mattress and in the home's guest bedroom. The other travelers included parents with their daughter, an Indiana college student, and two college-age friends from Seoul."
Another report filled in some details: "Of the visitors, three of them spoke English proficiently. Together, they watched football and shared stories. The guests, surprised and delighted by the Campagnas' Korean food provisions, created a variety of tasty meals they would make at home.
The travelers appreciated the impromptu hospitality, and it was something neither party will soon forget. 'It was kind of like fate,' remarked Yoseb Choi, one of the travelers who was on his honeymoon. Alexander echoed the sentiment, which he refers to as a blessing. "We have enjoyed this so much.' He and Andrea are now planning a visit to South Korea."
Luckily for the tour group, they had hit a house with a pantry full of Korean ingredients because the Campagnas love Korean food.
"The group spent Friday and Saturday swapping stories and cooking with their hosts. The Times report said they watched an NFL game on Christmas Eve and made several Korean meals, adding that Campagna and his wife are fans of Korean food themselves and had ingredients needed to make jeyuk bokkeum, stir-fried pork, and dakdori tang, a spicy chicken stew," Yahoo noted.
"If the travelers had stayed for Christmas dinner on Sunday, the group likely would have made bulgogi, the report said.
Drivers picked up the tourists on Sunday when roads were cleared and brought them back to New York City, the report said. Choi said he and his wife planned to stay for New Year's Eve. The others are scheduled to fly back to South Korea this week."
Three cheers for the Campagna family. They showed what good, old-fashioned American hospitality is all about: good food, good laughs, and good football. 
[Read More: Dinosaur Bones Found In Garden!]