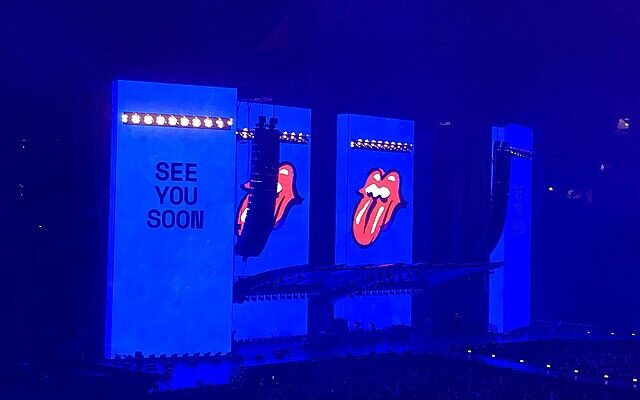 600 music lovers got the surprise of a lifetime while attending a night club in New York City earlier in the week. As the clock was striking midnight at Racket NYC, Mick Jagger, Keith Richards, and Ronnie Wood took to the stage to a shocked and enthusiastic crowd. 
The Rolling Stones played an astonishing seven song set tonight at Racket on W 16th Street in Chelsea, according to Showbizz 411.

The group was ferocious and remarkable ripping through oldies and presenting new songs from Hackney Diamonds, already number two on iTunes this morning. Lady Gaga joined them for a rave up finale on Sweet Sounds of Heaven.

The Stones played "Angry," the first single off the new album, as well two of my favorites, "Whole Wide World" and "Bite Off Your Head." The former has 'hit single' written all over it. The latter is such a whirlwind that when the guys finished, they actually congratulated each for getting through it.

Mick, Keith, and Ronnie are together 240 years old and very rich. They could stay home and drink Champagne all day. But their energy is almost frightening. Seeing then five feet away drove that point home. Ronnie is laughing on stage, completely enjoying the rush. Keith is giving a master class in lead guitar and running a band. Mick, as I said, is some sort of aberration. He is lithe and athletic, swirling around in a frenzy, cheerfully taunting Keith to play along with him as if this was 60 years ago.
USA Today said that "everyone on stage appeared to be steeped in joy. Wood, who has endured a few bouts of cancer, grinned as he stepped up to solo during "Whole Wide World," while Jones thundered behind his kit, already a master at Watts' signature playing style of never hitting the high hat and snare drum simultaneously. (Watts played on two songs on "Hackney Diamonds" – "Live By the Sword" and "Mess It Up.")
Jagger, as if it needs to be said, remains an indefatigable wonder at 80, his moves a blend of peacock strutting and karate chopping, his voice as distinctive and grainy as ever.
While the turbocharged newcomer "Bite My Head Off" (featuring Paul McCartney playing bass on the album) already sounds primed for the stadiums the Stones still rule, it was the memory-ingrained guitar chords of "Tumbling Dice" and "Jumpin' Jack Flash" that galvanized a crowd speckled with celebrities including Chris Rock, Daniel Craig, Trevor Noah, Elvis Costello, Diana Krall, Jimmy Fallon and Christie Brinkley."
The Stones' latest album, their first in over a decade, "Hackney Diamonds," came out on October 20.