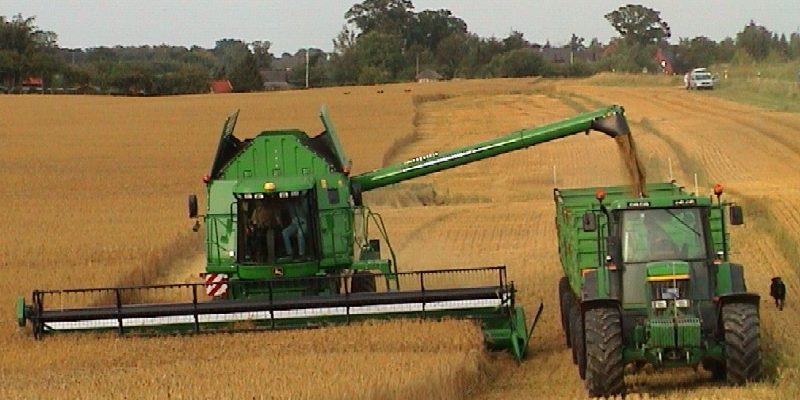 There is nothing stronger than a farming community. In August, while on his way to pick up some gravel for his farm, Scott Legried from the small town of Frost, Minnesota, swerved to miss a German shepherd puppy who ran in front of his truck. 
Legried missed the puppy, and his vehicle went flying into a cornfield. He went to the hospital with some serious injuries: a broken shoulder blade and collarbone, seven broken ribs, two cracked vertebrae, a collapsed lung, and a concussion.
He told the Washington Post, "I got knocked out and when I came to, I couldn't move," he said. "I couldn't even reach up to get my cellphone from the dash of my truck. I remember saying, 'Lord, I'm going to need some help here in the next five or 10 minutes.'"

When doctors told him he'd need several months to recover before he could drive a tractor, Legried — who lives alone and maintains his farm on his own with the occasional help of two seasonal workers — said he could think of only one thing: The October harvest was just six weeks away. How would he bring in his 600 acres of soybeans and corn, his only source of income?

His answer came Oct. 4, when more than a dozen farmers from Frost and surrounding towns showed up at Legried's farm with their combines, trucks and grain wagons and made short work of harvesting his soybean crop. They then told him they would return later in the month to bring in his corn.

"This is a busy time of year for farmers, so it meant the world to me," said Legried, 50. "But I guess I really wasn't surprised. I'm lucky to live in a community where people have always looked out for each other."
Lori Osland said, "We got a list of farmers from Scott that said that they had already offered to help him take crops out. So I got on the phone and called all the farmers, and we had a good turnout here today. They brought trucks and combines and grain wagons, and it's a good deal for Scott." 
The Frost community had their neighbor's back. 
"Friends and neighbors have made a habit out of helping one another, and Legried hopes that it acts as a lesson to others who may be in need," according to KEYC.
"Don't be afraid to ask for help. If you need help for anything in your life, and somebody offers it, you know, willingly, there's a reason why they offered it to you. They care about your wellbeing, and they want to do good for you," Legried told the local news station.
Eighteen community members assembled for a harvest lunch before taking their combines and trucks to finish the work for their friend.
His neighbors said Legried couldn't be more deserving. "He would do this for somebody else in a heartbeat, so he's just that kind of a guy that we just felt that we needed to do this for him," Osland continued.
Frost is located in southern Minnesota and has a population of 216 people.