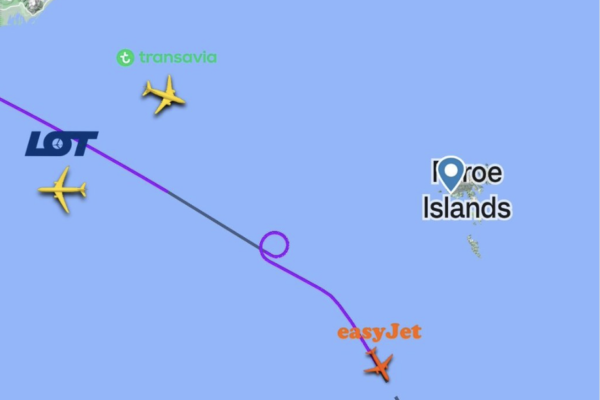 Some folks get to have all the fun and see the Earth's version of fireworks. Recently an EasyJet flight made a quick detour that allowed passengers to see an incredible display: The Northern Lights. 
The little aside added ten minutes to the trip, but everyone on board seemed happy landing a little later than expected.
An @easyJet flight just made a 360 turn over the North Sea. The Northern Lights are very strong tonight as well, so the reason was probably to allow passengers on both sides of the aircraft to see the fantastic #AuroraBorealis
https://t.co/IVJ81cqRKM pic.twitter.com/5cY8Hr2tPZ

— Flightradar24 (@flightradar24) February 27, 2023
Bloomberg wrote, On Monday evening, passengers on flight U21806 from Reykjavik in Iceland to Manchester Airport were able to take pictures of the celestial spectacle after the pilot decided to perform the circular turn.

8.30pm, while the Airbus A320 was flying at an altitude of 37,000ft (11,000m) and at a little under 500mph, according to flight tracking website Flightradar24.com.

A spokesperson from easyJet told the PA news agency: "We are pleased that the captain on our flight from Reykjavik to Manchester yesterday evening was able to perform a controlled manoeuvre in order to allow passengers to witness an amazing display from the air of one of nature's greatest sights, the aurora borealis.

"Our crew will always go above and beyond for our customers and we're delighted to have been able to share this special view of the northern lights with them."
The Northern Lights have been visible all over the UK over the past week or so. 
WOW. I never thought I would get to see the Northern Lights this far south in the UK, here in Dorset! What an incredible display at Knowlton Church tonight, absolutely unforgettable. #aurorauk #northernlights #aurora #auroraborealis #northernlightsuk #dorset pic.twitter.com/9mPfp5ITxt

— Robin Goodlad Photo (@Robin_Goodlad) February 28, 2023
We recently discussed how a photographer in Norway, Markus Varik, is taking some of the most beautiful pictures you may ever see. "Sometimes the world can be so beautiful it can make you cry. That's what often happens when the nature guides from the Norwegian company Greenlander take visitors on hikes to watch the aurora borealis's incredible displays of pink, purple, and orange." 
They might not be professional photos, but the pictures from the airplane were something to behold. 
Big thanks to the @easyJet pilot of EZY1806 from Reykjavik to Manchester who did a 360 fly by mid flight to make sure all passengers could see the incredible Northern Lights 🤩 pic.twitter.com/A4CHi9Hqgo

— Adam Groves (@APTGroves) February 27, 2023